RACING THIS WEEK
FEATURES
SERVICES
Jockey Eduardo Gutiérrez Sosa, a jockey who rode more than 2,500 in the Pacific Northwest and nearby states, died in a racing accident Wednesday evening in central Oregon.

© Vince & Linda Williams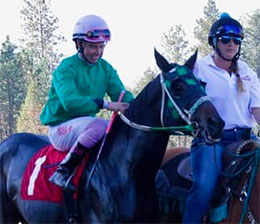 Oregon Based Jockey Eduardo Gutiérrez Sosa Dies In Racing Accident
PRINEVILLE, OR—JULY 15, 2021—
Jockey Eduardo Gutiérrez Sosa, a jockey who rode mostly around the Pacific Northwest and nearby states, died in a racing accident Wednesday evening during the annual Crooked River Roundup in Prineville, Oregon.
Gutiérrez was thrown over the rail in the middle of a 250-yard race for maiden 2-year-old Quarter Horses, according to newspaper reports, the race chart and an amateur video.
The video, taken from the middle grandstand, showed Gutiérrez Sosa losing control of Godfather Advice in the first race. As the 2-year-old colt skimmed the rail and continued forward it appeared Gutiérrez Sosa may have landed head first on the infield side of the rail.
According to the Equibase race chart, Godfather Advice "walked off" after what was his second start. Bred and owned by Enrique Garibay Ceja and trained by Rosa Rodríguez, the son of Best Advice had finished last in his debut June 15, a trial for the Firecracker Futurity at Grants Pass Downs. Gutiérrez Sosa also had the riding call in that race.
The Crooked County Fairgrounds was packed with spectators who were watching Wednesday's first race of the annual four-day meet that was canceled last year because of COVID. The remainder of Wednesday card was canceled following the second race.
Director Doug Smith went on the public-address system to announce that Gutiérrez Sosa had died. Fighting his emotions, Smith said it was the first time he had experienced the death of a jockey in his more than 40 years in the sport.
After canceling Wednesday's card, Smith said racing would resume as scheduled Thursday, Friday and Saturday, the last three evenings of the short meet.
With five wins in 22 starts, Gutiérrez-Sosa shared the riding title in the 2019 Crooked River Roundup. In a nine-year career he rode 1,592 starts on Thoroughbreds with 194 wins and $858,215 in earnings. In quarter-horse races he rode 919 times, won 171 and earned $788,120.
Funeral arrangements were not available at this time.