RACING THIS WEEK
FEATURES
SERVICES
Grants Pass Downs sets a new handle record during its recently-concluded meet.

© Vince & Linda Williams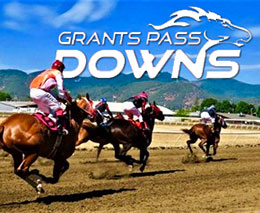 Grants Pass Downs Sets A New Handle Record During Its Recently-Concluded Meet
GRANTS PASS, OR—JULY 16, 2021—
Continuing its upward trajectory as Oregon's premier horse racing track, Grants Pass Downs established a new record for total handle during the 17-day spring/summer meeting that concluded Monday, July 6.
Total handle for the spring/summer meeting was a record $6,919,434, with a daily average handle of $407,026. The meet, which featured 138 total races, paid out $1,130,916 in purses and a $66,524 daily average. Average field size was 7.34.
Grants Pass Downs President Randy Evers cited the support of horsemen, the return of fans, and the nationwide support of horseplayers as highlights.
"I am so grateful for the support of our fans both locally and across the country as Grants Pass Downs continues to grow and set wagering records," Evers said. "It was very special to welcome back all of our great fans at Grants Pass Downs as COVID restrictions were relaxed.
"To hear the roar of the crowd as the horses left the starting gate, well it was something I really missed and brought a huge smile to my face. Our entire team is working hard to prepare for our fall race meet. I have every confidence it will be another giant step forward on our incredible adventure!"
There were numerous on-track achievements during the 17-day spring/summer season:
Joree Scriver with 23 wins and Quinn Howey with 13 wins each captured their second straight riding and training crowns at Grants Pass Downs.
6-year-old gelding El Alto Hombre reeled off four consecutive wins including three stakes triumphs for trainer Liz Kowalski and owner Anthony Hoover; 4-year-old filly Jaded Tiger also won four races including two stakes for owner/trainer Jaqueline Smith.
2-year-old gelding Five Bars Blazin scored a $34.80 upset in the $90,000 Firecracker Futurity—the richest race in the history of Grants Pass Downs—before a season-high 3,130 fans.
7-year-old gelding Capes Hot Rocket swept all three legs of the inaugural O B Harbor Sprint Series sponsored by Jody Peetz and the Oregon HBPA.
Grants Pass Downs resumes live racing Monday, September 20, with opening day of the 18-day Fall meeting.
ABOUT GRANTS PASS DOWNS
Located at the Josephine County Fairgrounds, Grants Pass Downs has hosted live pari-mutuel horse racing since 1968 and is now home to the largest race meet in the state of Oregon. More information about Grants Pass Downs can be found at gpdowns.com.