RACING THIS WEEK
FEATURES
SERVICES
Episode 8 of Los Alamitos Race Course's new racing show webcasts in English and Spanish are now available on demand.

© Los Alamitos Race Course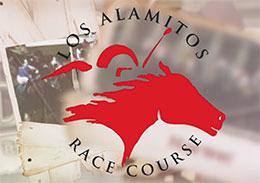 Los Alamitos Preview Show Is Now Live For September 11 With Special Guest Denny Ekins
LOS ALAMITOS, CA—SEPTEMBER 10, 2021—
Episode 8 of Los Alamitos Race Course's racing webcast show is now live featuring a preview of the trials to the PCQHRA Breeders Derby, the Tolltac Handicap and the Saturday night action at the Orange County oval.
Hosted by "Los Ponies" Jose Contreras, the racing analyst on TVG's The Quarters, webcast will be available on demand on YouTube and the link will be available at losalamitos.com and the track's social media pages on Twitter (@losalracing), Instagram and Facebook (Los Alamitos Race Course). CLICK HERE for a direct link for the show.
The show begins with a special interview with former Quarter Horse trainer Denny Ekins, who trained the great Tolltac as well as Champion of Champions winner Ocean Runaway, Flying Fig and more.
The show also features race selections by Chris Wade, the longtime racing analyst at Los Alamitos, and track announcer Michael Wrona. First post on Saturday night is 6:10 p.m. (PDT).
Contreras will be joined by Orlando Gutierrez, the track's marketing and publicity director from the Vessels Club as they introduce racing related interviews with trainers Lorenzo Ruiz, Adan Farias, and Pat Visscher.
In addition, Contreras and Gutierrez will host a "Previa" of the Los Alamitos weekend action in Spanish with a profile of Oscar Peinado and interviews with Valenzuela, Jr., Francisco Vallejo and Valentin Zamudio in Spanish. The "Previa de Los Alamitos" is available on the Los Alamitos Race Course YouTube channel via this link.
New episodes of this webcast will be released each Friday night to preview the upcoming racing action. A variety of current and past racing personalities will be featured on each show. For more information, please contact Los Alamitos Race Course at larace@losalamitos.com.