RACING THIS WEEK
FEATURES
SERVICES
A $30,000 guaranteed Juvenile is being added to the Grade 1 $200,0000-est. Oklahoma Paint and Appaloosa Futurity in 2022 at Remington Park.

© Dustin Orona Photography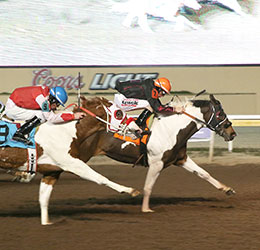 $30,000 Oklahoma Paint & Appaloosa Juvenile To Be Offered With Futurity For 2022
JAY, OK—OCTOBER 3, 2021—
A record purse is expected for the Grade 1 Oklahoma Paint and Appaloosa Futurity with addition of a $30,000 guaranteed Juvenile. Trials for the 300 yard race will be run at Remington Park on opening night, Friday, March 4 with the final set on Saturday, March 19.
Nominations for the $200,000 est. Futurity are due on Friday, October 15. The race includes $75,000 in added money plus $5,000 added in Oklahoma Bred money (if eligible) and $7,000 trial purses. APHA and ApHC foals of 2020 are eligible to nominate.
The payment schedule includes 5 payments of $450 with a total entry fee of $2,250. Double payments missed to date until February 15. Late supplemental nominations at time of entry is $5,000.
All nomination and sustaining payments must be postmarked by due date and should be sent registered or certified mail.
Send nomination, signed race conditions and sustaining payments to:
OK Paint & Appaloosa Futurity
PO Box 1012
Jay, OK 74346
CLICK HERE to download a nomination form and race conditions for the 2022 Oklahoma Paint and Appaloosa Futurity-G1.
All dates, added money and conditions are subject to OHRC approval.
For additional information, contact Shari Burger at (918) 520-3103 or email burgershari@yahoo.com.