RACING THIS WEEK
FEATURES
SERVICES
Episode 12 of Los Alamitos Race Course's new racing show webcasts in English and Spanish are now available on demand with special guest Eduardo Nicasio and more.

© Los Alamitos Race Course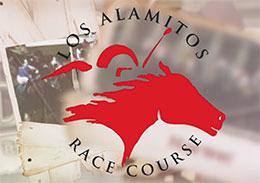 2021 Los Alamitos Championship Preview Show Now Live With Eduardo Nicasio
LOS ALAMITOS, CA—OCTOBER 8, 2021—
The Grade 1, $125,000 Robert Boniface Los Alamitos Invitational Championship is the marquee race of the weekend at the Orange County track and the focal point of episode 12 of Los Alamitos Race Course's webcast show. Special guest on the show is jockey Eduardo Nicasio, who will ride multiple Grade 1 winner Powerful Favorite in this 440-yard race.
Hosted by "Los Ponies" Jose Contreras, the racing analyst on TVG's The Quarters, webcast will be available on demand on YouTube and the link will be available at losalamitos.com and the track's social media pages on Twitter (@losalracing), Instagram and Facebook (Los Alamitos Race Course). CLICK HERE for a direct link for the show.
The show also features interviews with Los Alamitos Championship trainers Scott Willoughby, Mike Casselman, Jesus Nunez and Monty Arrossa – covering looks at Circle City, Nomadic, Chocolatito, You Can Run, Bail Czech and Apollitical Pence, plus we talk to Lindolfo Diaz, who will saddle Gotta Corona Jess in the Sound Dash. Also on the webcast are Chris Wade, the racing analyst at Los Alamitos, and track announcer Michael Wrona, as they each share their key runners in Saturday's 10-race program. First post on Saturday night is 6:15 p.m. (PDT).
Contreras will be joined by Orlando Gutierrez, the track's marketing and publicity director from the Equine Sale they conduct the "Previa" of the Los Alamitos weekend action in Spanish with a live interview with Eduardo Nicasio and they also catch up with Jesus Nunez and Lindolfo Diaz, who will both have solid runners in the Saturday stakes action. The "Previa de Los Alamitos" is available on the Los Alamitos Race Course YouTube channel via this link.
New episodes of this webcast will be released each Friday to preview the upcoming racing action. A variety of current and past racing personalities will be featured on each show. For more information, please contact Los Alamitos Race Course at larace@losalamitos.com.