RACING THIS WEEK
FEATURES
SERVICES
Longtime Texas horseman Leon Bard passed away on January 5, following a courageous battle with cancer.

© Coady Photography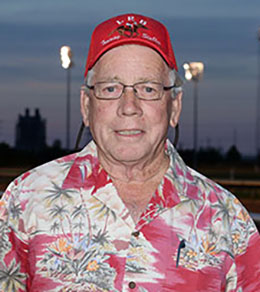 Texas Horseman Leon Bard Passes Away on January 5
By Martha Claussen
HOUSTON, TEXAS- JANUARY 9, 2022—Quarter Horse trainer Leon Bard died on January 5 in Wheelock, Texas, following a courageous battle with cancer. He was 75 years-old.
Known in the Texas Quarter Horse racing community as a skilled horseman, Bard was a force in the industry well before pari-mutual racing was passed in Texas. Family members and close friends shared memories of his rise from humble beginnings to becoming of the most respected trainers in the sport.
Bard was oldest of seven kids. He rode horses in his youth, competed in rodeo and worked for the famed Keith Barnett Sr. Cutting horses. He became an exercise rider and jockey before beginning his training career on owner's ranches. His travels took him to Oklahoma, Arkansas, through Texas, Louisiana, New Mexico and then to California. He broke his arm, his collar bone and injured his back, but never gave up or became discouraged. Each of his three children traveled with him in early years.
His oldest daughter, Shelly recognized the passion Bard had for his profession. "I remember back in 1981 he won his first futurity at Manor Downs with a little horse named Savannahs Go Dandy," said Shelly. "He was no bigger than a pony, but Daddy knew he was fast. I prayed and promised to God that if he won, I wouldn't cuss for a month! It was amazing that that little, fat horse came through and of course, I kept my promise!"
Bard's other daughter Caryl Merchant reflected on the determination of her father.
"Daddy was the hardest working man I've ever known," she said. "The millions of miles he drove from track to track and countless hours spent working with the horses he so loved were just a small part of the equation. Even a quadruple bypass in 2019 couldn't keep him down ;with the support of his assistant Ricardo (Aguirre) and countless others he managed to still have quite a successful year. Although it was hard to see him suffer through his illness, I am eternally grateful for the time I was able to spend with him; some of the best stories and lessons I learned were ones he shared with his doctors, nurses and friends to the very end."
Bard's son, Kevin spoke about his father's gratitude to a number of owners and breeders for their support throughout the years.
Kevin credits owners including Gary Hartstack, Tommy Arhopolus, Mary Lynne Thompson and Jerry Windham for their faith in his dad. While Zip First and Indigo Illusion were two of Bard's most successful runners, Kevin's favorite was Cash From Texas.
"So many Quarter Horses are hard to handle, but he was a horse you could walk like a dog," recalled Kevin. "He went on to earn over $200,000."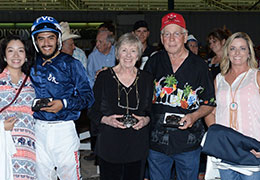 Owner Mary Thompson and trainer Leon Bard accepting the Sam Houston Futurity(G2) stakes trophy for This Is An Eagle.
© Coady Photography
According to Equibase statistics, Bard saddled 2,275 Quarter Horses since 1993, with purses of $5.9 million. His top earner was Gary W. Hartstack's Zip First ($552,356), winner of the 2002 Ruidoso Futurity (G1). He won a record five editions of the TQHA Sale Futurity(RG1), beginning with Silver Gol in 2015 as well as Grey Daze (2014), Cartels Pop (2015), Just Another Natural (2017) and Dak (2018). SF Hot Pass, had an exceptional record at the classic distance of 440-yards, including a victory in the 2019 Bank of America Challenge Championship (G1). Bard also won the 2017 Sam Houston Futurity(G2) with This Is An Eagle ($302,206).
Bard is survived by three children, Shelly Burnett, Caryl Merchant, Kevin Bard as well as his life partner of the past 20 years, Jackie Riddle, five grandchildren and six great grandchildren. A Celebration of Life and Brunch will be held Sunday, January 30 at the Wheelock Community Center, beginning at 10:00 am. The family invites all fellow horsemen and friends to attend. In lieu of flowers, the family requests that donations can be made to the American Cancer Society.
Sam Houston Race Park will also honor Bard at a date to be announced in their upcoming Quarter Horse season.
Here are some memories shared by several members of the Texas racing community on the passing of Leon Bard.
Texas Owner and breeder Jerry Windham
"Back in the '70's, I had halter show horses and finally decided to get myself a racehorse." said Windham. "Leon was willing to train for me and before pari-mutuel racing was passed in Texas, we would haul horses all over the state. By the fourth year, we went to Ruidoso and I spent $47,000 on a really nice mare named Passem Lika Flash. She won the Firecracker Futurity in Louisiana. Following that I bought Indigo Illusion; Leon trained her as well. I totally understood when Leon made his decision to go out on his own, but for sure, we had a great partnership and quite a few adventures driving all over Texas!"
Rob Werstler, Texas Quarter Horse Association (TQHA) Executive Director
"Just because you have "trainer" next to your name in a racing program does not mean you are a horseman. Leon was in every sense of the word. He won the TQHA Sale Futurity more than any other trainer. He was a character, and I always enjoyed our conversations. I will miss him."
Scott Sherwood, TQHA Director of Racing
I worked for Leon back in the 80's for a while and became good friends with him and his entire family. I could go on and on about the conversations we had and some of our adventures. I will miss him greatly and my condolences go out to his entire family but especially to his kids Caryl, Shelly and Kevin, Jackie Riddle and his brother Robbie who were all very much involved in taking care of him in his final moments. The Quarter Horse industry truly lost a giant with his passing."
Texas Breeder and Owner Pete Scarmardo
"Leon was a great friend and as good of a horseman that I have ever known," noted Scarmardo. "He had an eye for horses and could always spot issues. Not much got by Leon; he took time with the babies and developed some excellent champions. Even more importantly, Leon cared greatly for his friends."
James Leatherman, who serves as racing secretary for both Sam Houston Race Park and Retama Park, had great respect for Bard
"Leon was an incredible horseman; one of the best I have ever worked with in my 15 years as a racing secretary in Texas. "He developed a very talented group of 2-year-olds, winning the TQHA Sale Futurity four times, always with a loyal group of his supporters in the winner's circle. We will miss Leon greatly."
"It will be tough to imagine our upcoming Quarter Horse meet without Leon," added Shyrl Hopkins, Sam Houston's horsemen's relations and program coordinator . "He was like family to me and my husband, Jay, who shod his horses for the past six years. Many people knew Leon as a great trainer; we were blessed to know him as a true friend who would help anyone in need."
Ricardo Aguirre, Bard's assistant trainer
Leon was a man of few words but somehow I always knew what he was saying or thinking," said Aguirre, of their 6-year association. "He was an awesome boss, but above all a best friend! I am sorry that I never had the chance to thank him for his wisdom help, and love!"
Francisco Calderon, jockey
"I would not be where I am today without Leon," stated Calderon. "He believed in me from the beginning, helped me learn in so many ways and never put pressure on me before a race. He was very loyal and kept me on the top stakes horses even when others suggested he ride a more experienced jockey. Leon would just tell them "I'm sticking with Calderon."
* * * * * * * * * *
And on a personal note, I have always said that as much as I love the horses, it's the people in our racing industry that truly inspire me.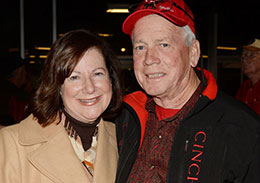 Former Sam Houston Publicity Director Martha Claussen interviewed Leon Bard many times over the last few years.
© Coady Photography
After days of talking to his family members and many people in the Quarter Horse world, I learned so much more about this man who gave 150% to the horses and people he respected. Rest in peace, Leon…you will be fondly remembered by us all.
Martha Claussen served as publicity director at Sam Houston Race Park for ten years. She continues to be active in writing and racing publicity in Texas, Louisiana, Indiana, Oklahoma and other regions in North America.