RACING THIS WEEK
FEATURES
SERVICES
Wyoming distributed over $3.7 Million in its 2021 Breeders Award Program.

© iStock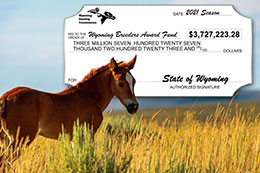 State Bred Incentives On Rise In Wyoming, Over $3.7 Million Breeders Awards Distributed For 2021
By Brande J. Koltiska, Wyoming Bred Administrator
Wyoming Gaming Commission
CASPER, WY–MAY 3, 2022–The Wyoming Legislative action, regarding Historic Racing in Wyoming, was passed to not only revive horse racing but to focus on promoting the Wyoming Breeders Award Program in the Cowboy State by creating bigger incentives for those horse owners and breeders and it has done exactly that.
It has transported the racing industry as a major revenue source to the State of Wyoming, Wyoming municipalities and agricultural based businesses and communities.
Over $3.7 million was distributed to the Wyoming Breeder Awards Fund in 2021 to eligible owners, breeders and stallion owners of registered Wyoming Bred horses that participate in Wyoming live race meets throughout the state. In 2021, 270 Accredited Wyoming Breds raced throughout the Cowboy State during the 50 days of live racing offered. Over $16 million dollars has now been allocated to the fund from Historic Racing terminals since 2013.
The top overall award participant Broken Bones Cattle Company of Lander, Wyoming received $338,743.86 for being an owner, breeder and stallion owner of Wyoming bred horses which earned them the prestigious title of Owner and Breeder of the Year. Also their stallion, Eyesa Special Slim earned top honor of Stallion Of The Year honors as a result of his foals performances including top runners; Eyesa Special Rebel, Eyesa Special Hatchet and Eyesa Special Swirl.
The Overall High Point Racehorse is Powell, Wyoming residents Dan & Kim LaPierre's quarter horse, Big Brown whose 61.5 points earned the owner and breeder over $28,718.
The Wyoming Bred Stallion Owner of the Year is the late Mike Lipp, whose stallions Whata Corona Runner and Coronas Velvet sired foals that earned the Lipp Estate from Greybull, Wyoming $116,828.27.
The broodmare Pritzis Diamond Lil foals, Diamond Dusting and Prit Pro efforts on the racetrack have earned Afton, Wyoming breeder Rick Hillstead over $26,383.24 and clinches her the title of Broodmare of the Year.
CLICK HERE for a complete list of 2021 Accredited Bred Wyoming Champions.
The Wyoming Breeder Awards Program has made the State of Wyoming one of the most lucrative state bred programs in the country, not only supporting the breeders but more revenues for the State of Wyoming. The revenue from the historic racing terminals for Wyoming municipalities for 2021 reached over $9.1 million to distribute back to cities and counties where the Historic Racing terminals are located.
Over $40 million dollars has been distributed to local municipalities since Historic Racing was implemented in 2013.
Wyoming will run 52 live race days in 2022, starting May 21, 2022. Live races will be conducted at the following racetracks:
• Energy Downs, Gillette, WY-16 days (307horseracing.com)
May 21 – June 26
• Wyoming Downs, Evanston, WY-20 days (wydowns.com)
June 4 – August 7
• Sweetwater Downs, Rock Springs, WY-16 Days
(wyominghorseracingdata.com)
August 13 – September 25
For more information on the Wyoming Breeders Award Program please visit the Wyoming Gaming Commission website: gaming.wyo.gov.