RACING THIS WEEK
FEATURES
SERVICES
Ruidoso QH Futurity(G1) winning trainer Toby Keeton (right) enrolled his top two runners in the Chip Link Pilot Project this week.

© Lip Chip LLC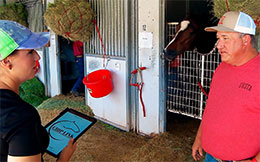 Chip Link Pilot Project Launches With Ruidoso Futurity Winners Among The First To Enroll
SAN ANGELO, TX–JUNE 21, 2022–Lip Chip LLC officially launched the Chip Link Pilot Project in conjunction with Ruidoso Downs last week.

The first horses to enroll were top quarter horses from Keeton Racing, Otts Boy and Gettherefast, who finished top two in the Ruidoso Futurity.
"For my barn this is a no brainer," said Toby Keeton, trainer at Keeton Racing. "I like knowing my horses are easy to keep up with and we can keep track of all their paperwork. I definitely appreciate that I am reminded when I need to repull for a coggins," said Keeton.
Ruidoso Downs supports voluntary enrollment for trainers who choose to participate in the pilot project, which was created to bring back transparency and integrity to the horse industry.
Attending veterinarians from Equine Sports Medicine & Surgery ensure each horse is implanted with a microchip which houses a unique 15-digit identifier.
Enrollment in the program offers access to the Chip Link System, which will be available to horsemen everywhere in 2023.
The Chip Link System includes the following:
• Each horse is microchipped with a low frequency microchip,
either in the superior lip placement, or the nuchal ligament.
• Each horse has their owner information, breed, age, sex, color,
markings, and emergency contact information uploaded into the
secure database.
• Each horse has 4 current photos as well as copies of their current
coggins, piroplasmosis, health certificates, and registration papers
uploaded into the secure database.
o Only a certified track identifier or an approved
veterinarian may upload information into the
database
• Once a horse has been implanted with their unique microchip,
a simple scan with the AChip Link Reader will unlock this
data and send it to a mobile app housed on a martphone,
tablet, or laptop.
American Quarter Horses and Thoroughbreds alike are included in the program. Each time a horse enters or exits the backside gates, they will be scanned to secure identification and
documentation. When a horse arrives at the holding barn, paddock, clocks for a morning work, or test barn, they will be scanned to verify identity.