RACING THIS WEEK
FEATURES
SERVICES
The $55-million Quarter Horse facility to create new jobs, tax revenues in eastern Kentucky.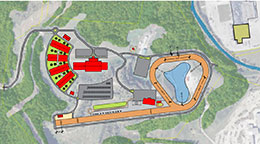 Revolutionary Racing Awarded New Racetrack License Dedicated to Quarter Horses
LEXINGTON, KY–JULY 26, 2022–The Kentucky Horse Racing Commission has awarded the state's ninth and final license to Revolutionary Racing Kentucky, which plans to invest $55 million to build a world-class equestrian center, including Kentucky's first racetrack dedicated to Quarter Horses.
"This project is as much about economic development as it is the Quarter Horse community," said Larry Lucas, Chairman of Revolutionary Racing Kentucky. "We are very grateful and humbled by the confidence shown by the commission and the support from the governor's office, the Mountain legislative caucus, Boyd County, the city of Ashland and the people of eastern Kentucky."

"The American Quarter Horse Association has had several conversations with key leaders of Revolutionary Racing, and we are excited about the prospect of racing opportunity for Quarter Horses in the state of Kentucky," said AQHA Chief Racing Officer Janet VanBebber.

"However, we have not yet received the completed application required for their races to be recognized by our organization. As we navigate the critical path toward implementation of live racing, know that our leadership will be reviewing track design, commitment to abundant racing opportunity, and other factors before affording final approval. We are dedicated to the protection of both horse and rider, and securing a viable opportunity for our members to showcase their equine athletes. We look forward to engaging with Revolutionary Racing in this pursuitm ," she added.
Revolutionary Racing Kentucky plans to build the racing facility on 177 acres in Boyd County, near Ashland. It is expected to create more than 200 permanent jobs, in addition to the union labor that will be used during construction. Nearly $1 million in new tax revenues are expected to be generated each year.
The racetrack, being designed by Populous and in consultation with the Kentucky Quarter Horse Racing Association, will feature a 660-yard sprint track and daily purses of $500,000, placing it among the premier Quarter Horse racing tracks in the nation.
"This is a historic day for the thousands of Quarter Horse owners who call Kentucky home," said Dr. Richard Connelley, KQHRA President. "For decades, we've had to travel to other states to race, so we are ready to welcome our friends from across the country to come here and add to the legacy and tradition that is Kentucky horse racing."
While Quarter Horse racing will serve as the centerpiece of the project, plans call for year-round use for Quarter Horse shows and competitions, as well as an adjacent entertainment complex.
"We are excited to take the next step in our journey to bring a world-class facility to Boyd County," said Prentice Salter, CEO of Revolutionary Racing Kentucky. "We will continue to work closely with the KHRC, our Quarter Horse partners and the community as we build something that all Kentuckians can be proud of."
Boyd County Judge Executive Eric Chaney thanked the KHRC, as well as the many community leaders, state legislators, business owners and others who have strongly supported this substantial investment in eastern Kentucky.
"We have all rallied behind this project because we understand what it will mean for our community – from jobs to tax revenues to quality of life," Chaney said. "Revolutionary Racing has been a true partner with us throughout this process and we look forward to them being part of our community for many years to come."
Construction is expected to begin later this year.