RACING THIS WEEK
FEATURES
SERVICES
Lone Star Park was part of a group who filed a new lawsuit against the Horseracing Integrity and Safety Act (HISA).

© Lone Star park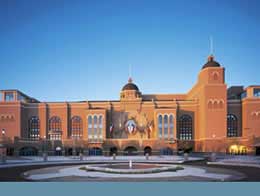 Texans File New HISA Lawsuit
AMARILLO, TX–AUGUST 1, 2022–According to an article by Dan Ross posted today on the Thoroughbred Daily News website TDN.com, a group of racing-related entities including Lone Star Park have filed a new lawsuit against the Horseracing Integrity and Safety Act (HISA).
In court filing July 29th, the suit is requesting declaratory and injunctive relief along with a request for a preliminary injunction.
The suit was filed in the United States District Court for the Northern District of Texas, Amarillo Division, the suit focuses on the relative power of the Horseracing Integrity and Safety Authority–the umbrella non-profit established by the Act–to implement the program.
This latest filing is in a different division of the same district court where a separate lawsuit was filed by the National Horsemen's Benevolent and Protective Association (NHBPA) in 2021. A federal judge threw out that case and NHBPA filed an appeal, which is pending.
The Texas Racing Commission (TRC) has refused to comply with Act, which went into effect at the July 1, arguing that only the commission has the authority to oversee horse racing in the state under current Texas law. Currently HISA only covers Thoroughbred racing in the state.
As a result of TRC's refusal to comply, the state's Thoroughbred meets are not allowed to send their race signals out of state and advance deposit wagering companies are prevented from taking bets on Texas Thoroughbred races.
According to a spokesperson for the Authority, HISA will mount a legal defense "while the Authority's focus remains on implementing the Racetrack Safety program and finalizing Anti-Doping and Medication Control rules." Implementation for the latter is scheduled for Jan. 2023.
The plaintiffs include Global Gaming LSP, which owns Lone Star Park, and Gulf Coast Racing LLC, which owns a greyhound racetrack located in Nueces County, Texas.
The other two plaintiffs consist of LRP Group Ltd. a limited partnership working towards "operating an active horseracing track" in the south of the state, and Valle De Los Tesoros, a limited partnership similarly looking to operate a horseracing track in South Texas, the license is currently designated inactive by the TRC.
Last month Louisiana and West Virginia won a preliminary injunction in federal court aimed at keeping HISA from being implemented in those two states until the Act's constitutionality gets decided in full.