RACING THIS WEEK
FEATURES
SERVICES
Martha Wells, longtime Quarter Horse owner and breeder a over the past 30 years, passed away.

© Los Alamitos Race Course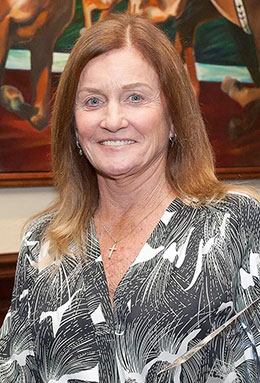 Martha ''Mimi'' Wells, Top Quarter Horse Owner And Breeder, Has Died
LOS ALAMITOS, CA—SEPTEMBER 12, 2022—Martha Wells, one of the most successful and prolific Quarter Horse owners and breeders at Los Alamitos Race Course over the past 30 years, has died.
Wells passed away unexpectedly in her sleep, at her home in Orange County, California, after going to bed on Saturday night, according to her family. She was 75.
"Mimi", as she was affectionately known around the racing industry, was ever present in her support of Quarter Horse racing at Los Alamitos. Over her career as owner, she had 2,684 Quarter Horse starters with 378 winners, and over $5.67 million in earnings, stats that rank her among California's leading owners during that span.
Numbers aside, she was among the most respected figures in the industry. She was recognized by her peers with the 2000 Frank Vessels, Sr. Memorial Award in appreciation for her outstanding contribution to the sport. She was also awarded the Pacific Coast Quarter Horse Racing Association Breeder Special Achievement Award in 2019 and 2012.
Her biggest year as owner, and breeder came in 2020, thanks in large part to her homebred colt, Tell Cartel. The Favorite Cartel colt won both the Grade 1 Los Alamitos Winter Derby and Grade 1 Los Alamitos Super Derby and was the winner of the Grade 3 El Primero Del Año Derby, in which Mimi had the top three finishers in the race.
Tell Cartel would complete his sophomore campaign with a second-place finish in the 2020 Champion of Champions. As a result of his accomplishments, Tell Cartel would be named the 2020 AQHA champion 3-year-old and AQHA champion 3-year-old colt, and the 2020 PCQHRA Horse of the Year and PCQHRA Champion 3-Year-Old Colt.
Over the years, Mimi also campaigned the stakes winner Forrest Fire, who earned over $335,000 in a long and decorated career; the 870-yard distance star No Pet Peeves, who was known as 'Grandpa' and ran for nine seasons until his 10-year-old year; Grade 2 winners Chicks First Policy and New Look; and 2021 stakes winner Chicks Fayvorite and 2020 stakes winner Yanque.
There were also so many wonderful relationships that Mimi had in the Quarter Hores racing industry, including her friendship with Ralph and Carolyn Fales, and their son, Matt Fales, who trained for Mimi Wells, and a long-standing professional relationship and friendship with Dr. Steve Burns and Jo Rae Burns at Burns Ranch.
"She was my dearest friend," Carolyn Fales said. "She was like my sister. She loved coming to the ranch here in Arizona. She would go pasture after pasture to see the horses. When Tell Cartel came here as a stallion, 'Tell' would fall all over her with love whenever she came to visit. Mimi was the toughest, best lady I knew. Quarter Horses were the absolute love of her life. She wanted to evolve her operation into breeding and was so excited about Tell Cartel and about his babies. She was all cowgirl, through and through. We went to her house to look at babies and she never shied away from anything having to do with the caring of her horses. She would do anything that was right for her horses. If it was the right thing to do for her horse, she would do it in a second."
"We were saddened to hear of Mimi's passing," added Dr. Steve Burns of Burns Ranch. "She was a longtime client of Burns Ranch and a good friend. She was also a very important part of Los Alamitos and of California racing. She will be missed."
Burns Ranch was the home of Mimi's top mare, Chicks Tell, a two-time winner of the James V.A. Carter Award given to California's outstanding broodmare of the year, until the broodmare's passing at the age of 22 last November.
Mimi was also a mainstay at the Vessels Club at Los Alamitos Race Course on racing nights. There, she would enjoy the camaraderie of fellow owners, breeders, and racing fans, while relishing the thrills and joys of watching her horses run. Her final visit to the track was on Saturday evening, as she stopped by to root on Howard and Lori Nichols' Jess Being A Friend and many other of her friends' horses competing in the trials to the PCQHRA Breeders Derby.
"We had a blast watching the races on Saturday night," said owner Ron Martin. "We are missing her dearly already."
"She'll always have a special place in my heart," owner Link Newcomb added. "She and Dan Francisco introduced me to the sport. She was loyal and could be strong-willed, but she was an unbelievably solid and loving person. Our sport will miss her greatly. I'm so thankful she had the year she did with Tell Cartel. She had a champion, and she was proud to be able to do that."
Upon hearing that Tell Cartel had been named 2020 PCQHRA Horse of the Year, Mimi responded by saying, "After 49 years in this business, to have Horse of the Year at Los Alamitos Race (Course) is the biggest honor I could ever imagine."
Decades before Tell Cartel, Mimi was part of the backstretch at Los Alamitos Race Course. Her late husband, Dwayne Wells, was an accomplished jockey and a graded stakes winning Quarter Horse trainer at Los Alamitos. At the Orange County oval, Dwayne saddled hundreds of winners starting in the early 1970s through the mid-1990s, sending top runners like Jetliner Joe and Master Woodstock to the track.
A mother, wife, horsewoman, and friend of racing, Mimi would be in the winner's circle with her husband celebrating a victory in the evening and be back the next morning on horseback with her sons, sharing her love for the horses.
Mimi Wells grew up in Philadelphia and competed in horse shows from the age of 7. She attended the University of Arizona and while there, she would take every available opportunity to be around horses. She met Dwayne after he watched her gallop a horse. Their love grew from there. On Sept. 22, 1972, Dwayne and Mimi bought their first horse, Rebel Croton, which went on to win his first race. The last horse Dwayne trained, Bobby Blue, raced on Sept. 23, 1996, and won as well.
After Dwayne passed away from a heart attack, Mimi kept the barn running with the support of her sons, Dan, and David, as well as other racetrack friends. "Dwayne would have wanted me to continue with his horses," she was quoted as saying in the LA Times. She cared for horses like Blockbuster Bobby and My Strawberry Chick, a pair of standouts from the juvenile class of 1998.
Dan Francisco would eventually take over the training of her horses, helping Mimi concentrate on other aspects of her life. Mimi would soon strike stakes success on the racetrack with the gray gelding Chicks First Policy in 2000, as he would win six of 13 starts that year, and would run in the Champion of Champions. At season's end, Chicks First Policy would be named the AQHA champion 3-year-old gelding.
"Mimi was a longtime supporter of Los Alamitos Quarter Horse racing and ran some truly great horses over the years," said Vince Genco, the president of the PCQHRA. "We would wish each other good luck whenever we ran against each other. She will be greatly missed as an owner, but even more as a wonderful friend of Quarter Horse racing."
"She loved the track and Quarter Horses so much," Carolyn Fales added. "The track was her favorite place in the world. I can't put into words, how much I will miss Mimi."
When the PCQHRA presented Mimi with the 2020 owner special achievement award, Mimi recorded a video to express what the award meant to her racing team. Standing by the horse barns at her home, Mimi said: "Everybody at the barn is just wonderful. We are a happy team. I think that's why we are so successful."
Mimi Wells is survived by her sons, Dan, and David, and eight grandchildren, Victoria, Taylor, Elizabeth, Jadon, Emerson, Troy, Torin, and Hunter. A memorial service for Mimi will be held at 11am on September 25th at the Fairhaven Memorial Park & Mortuary in Santa Ana.
* * * * * * * * * * * * * *
For more info, please contact larace@losalamitos.com. Follow us on Twitter or Instagram at @losalracing or visit us online at losalamitos.com.