RACING THIS WEEK
FEATURES
SERVICES
Trainer Cervando Garcia-Solis has been suspended for one year and fined $10,000 by the New Mexico Racing Commission.

© Coady Photography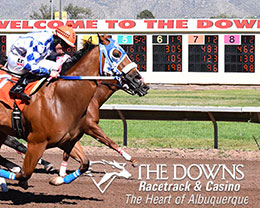 Quarter Horse Trainer Suspended One Year, Fined $10,000 For Ritalin Positive
by Paulick Report Staff
A Quarter Horse trainer in New Mexico has been suspended for one year and fined $10,000 after one of his trainees returned a positive test for the metabolites of the prescription ADHD medication Ritalin, a Class 1 drug violation.
Class 1 drugs have no generally accepted medical use in the racing horse and their pharmacologic potential for altering the performance of a racing horse is very high.
According to a ruling posted on the Association of Racing Commissioners International website, the New Mexico Horse Racing Commission suspended trainer Cervando Garcia-Solis from (retroactive from summary suspension) September 15, 2022, through September 14, 2023, inclusive.
Garcia-Solis accumulated "6" points in connection with this ruling for a total of "6" points under the multiple medication violation point system. Under the multiple medication violation point system, Garcia-Solis is suspended an additional penalty of 30 days (Sept. 15, 2023, through Oct. 15, 2023) pursuant to section 15.2.6.9 (O)(7) of NMAC.
Garcia-Solis is a multiple stakes-placed trainer with 22 wins from 298 starts in a career stretching back to 2010.
The ruling is in response to Garcia-Solis' trainee Confidential Dash, who won the seventh race, a maiden special weight, at the Downs at Albuquerque on Aug. 27, 2022. The 3-year-old had not finished better than fourth in five previous starts; for his Aug. 27 victory, Confidential Dash paid $27.80.
For his first five career starts, from Aug. 21, 2021, through June 24, 2022, Confidential Dash raced under the name of his breeder, Gregg Sanders, as trainer and co-owner. The Aug. 27, 2022-race was the gelding's first start for Garcia-Solis.
Industrial Laboratories reported findings of both methylphenidate and ritalinic in Confidential Dash's post-race blood sample, also confirmed via split sample. Methylphenidate is the generic name for Ritalin, and ritalinic is a metabolite of the same.
According to the ruling, Ritalin is a zero tolerance drug in New Mexico. It is a stimulant which has the potential to affect performance, and it is not approved by the FDA for use in horses and is not commercially available in the United States.
Confidential Dash was disqualified from his win and all purse monies ordered redistributed. Confidential Dash must pass a commission-approved examination and test clean in blood before becoming eligible to enter another race. He may not be tested until on or after May 14, 2023.
Reprinted courtesy Paulick Report.