RACING THIS WEEK
FEATURES
SERVICES
Quarter Horse Trainer Randy Smith earned his ninth consecutive leading Quarter Horse Trainer title during the 20th season of racing at Horseshoe Indianapolis.

© Coady Photography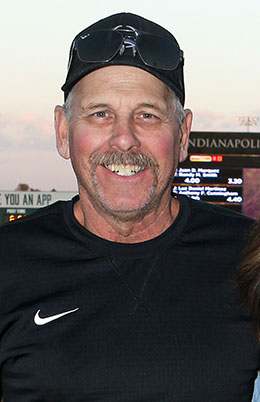 Randy Smith Stable Tops Three Of Four 2022 Quarter Horse Categories At Horseshoe Indianapolis
SHELBYVILLE, IN–NOVEMBER 23, 2022–Quarter Horse Trainer Randy Smith, the all-time leader in Indiana history in wins and purse earnings, added his ninth consecutive title to his resume at the conclusion of the 20th season of racing at Horseshoe Indianapolis today (Nov 23).
Smith shattered his own record for most wins and purse earnings in one season, scoring 76 wins and more than $2.3 million. The earnings tally of $2,318,678 is the most for a trainer of any breed in the state of Indiana.
"I want to say thanks to all the help and the owners," said Smith. "Without them, we couldn't accomplish this."
Smith now has 453 career wins and more than $11.1 million in purses at Horseshoe Indianapolis. He had five of the top horses for the meet, including Piloted by an Angel and Winner Spirit, who each had five wins in seven starts.
Winner Spirit received the 2022 Leading Quarter Horse of the Year award due to more purse earnings, which is also a record for most earnings in one season. The Walter Harrison owned and bred two-year-old scored five straight wins to complete his freshman season with earnings of $215,203, the first Quarter Horse to go over $200,000 in Indiana history.
Other top horses for Smith in 2022 include Extermynator and Our Louisiana Girl, who each won four races. Extermynator qualified and competed in this year's John Deere Juvenile Challenge Championship, finishing fourth in the Graded Stakes event.
Smith's first call rider, Juan Marquez, was also awarded his first Indiana title in the jockey ranks. The Hidalgo, Mexico native set four records during the year, including most wins in one night (6), most stakes wins in one season (7) and most wins and most purse earnings in one season with 51 wins and more than $1.1 million.
He is the first Quarter Horse jockey in history to go over the $1 million earnings mark. All 51 of his wins were aboard horses trained by Smith.
In addition to Marquez, German Rodriguez won 18 races for the Smith Stable while James Flores, who came in to ride for Smith on stakes days, added four wins to the tally. Smith ended the season with a 19 percent win average and a 47 percent top 3 average.
* * * * * * * * * * * * * * *
For more information on live racing at Horseshoe Indianapolis, visit www.caesars.com/horseshoe-indianapolis.
About Horseshoe Indianapolis
Horseshoe Indianapolis, owned and operated by Caesars Entertainment, Inc. (NASDAQ: CZR), holds multiple awards for customer service, entertainment, gaming, racing, dining, and diversity. Located just minutes from Indianapolis in Shelbyville, Ind., this one-of-a-kind property has wall to wall excitement on the 105,940 square foot gaming floor, featuring more than 1,600 slots and 72 table games along with a state-of-the-art World Series of Poker Room containing 20 tables. Please visit www.caesars.com/horseshoe-indianapolis for more information and find Horseshoe Indianapolis on Facebook, Twitter, and Instagram.