RACING THIS WEEK
FEATURES
SERVICES
A sustaining payment for the 2023 West Texas Futurity is due January 30.

© Coady Photography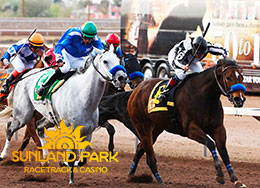 West Texas Futurity Sustaining Payment Due January 30
SUNLAND PARK, NM—JANUARY 16, 2023—a $600 sustaining payment for the 2023 $100,000-added West Texas Futurity(G2) are due Monday, January 30th. Horses may also be supplemented on January 30 for $2,500 entry fee.
For Quarter Horse foals of 2021, trails for the 2023 West Texas Futurity will be contested Saturday, March 1 and the 10 fastest qualifiers will return to Sunland Park to compete in the 300 yard final on Saturday, April 1, 2023.
The remaining 2023 West Texas Futurity Payment Schedule:
• $600 on or before January 30, 2023 (or supplement $2,500
plus entry fee)
• $850 to enter trials (refer to Sunland Park 023 condition book for date)
• Supplemental nominations will be accepted by January 30, 2023
by payment of $2,500 plus remaining payments and trial fee or a
payment of $10,000 at time of entry to trials (includes all fees)
CLICK HERE to download the 2023 West Texas Futurity nomination form.
Make checks payable to:
West Texas Futurity
Sunland Park Racetrack & Casino Nominations Secretary
1200 Futurity Drive
Sunland Park, NM 88063
For a complete 2022-2023 Nominations Calendar for Sunland Park Racetrack & Casino CLICK HERE.
For additional information call 575-874-5200.