RACING THIS WEEK
FEATURES
SERVICES
Empressum, owned and raced by Jeff Jones and Steve Holt, was also honored as champion aged horse and champion aged gelding of 2022.

© William Zuazo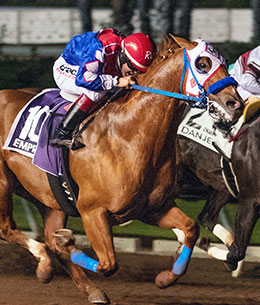 Empressum is the 2022 World Champion Racing American Quarter Horse
AMERICAN QUARTER HORSE ASSOCIATION—JANURY 18, 2023—The Champion of Champions at Los Alamitos Race Course was billed as "a race for the ages" and that proved prophetic, as its victor, Empressum, was crowned the 2022 World Champion Racing American Quarter Horse at the AQHA Racing Champions Announcement Ceremony January 18 at Heritage Place in Oklahoma City.
He is bred and raced by the partnership of Jeff Jones and Steve Holt, and was also named champion aged gelding and champion aged horse.
Empressum was the 2021 champion 3-year-old, and he came back as a 4-year-old to win four of six starts and earned $587,896.
The son of Apollitical Jess out of the First Down Dash mare Crazy Down Corona, his first start of his world champion year was a second-place run in the January 2 Championship at Sunland Park (G1), which was a 2021 race delayed until the new year by weather. His remaining starts were at Los Alamitos, and he won his Vessels Maturity (G1) trial and then won the final by nearly 2 lengths.
In the 400-yard Go Man Go Handicap (G1), he ran an otherworldly race, clocking the fastest final eighth in more than a decade. The gelding was then second in the Robert L. Boniface Invitational Championship (G1). In the Champion of Champions (G1), he faced a field that included 2021 World Champion Danjer, and defeated that rival by more than a length. M. Heath Taylor trained Empressum, who was ridden by Rodrigo Vallejo.
Earning champion aged stallion honors was Shockinglyfamous, a 2016 stallion by One Famous Eagle and out of the Thoroughbred mare Shocktime, by Langfuhr (TB). He won or placed in eight of nine starts during the year for owners Kasey Willis and Stone Chase Stables LLC.
Bred by Clarence Scharbauer III, the horse won the AQHA Will Rogers Distance Challenge (G3) and Jesse Yoakum Memorial 870 Stakes and earned $111,514 during the year. He was trained by Willis, and ridden by Cody Wainscott, Stormy Smith, Benito Baca and James Flores during the season.
Kiss Thru Fire returned as the champion aged mare for breeder and owner Gentry Farms. The daughter of champion mare Fredaville, the Walk Thru Fire-sired mare won four of seven starts and earned $187,625.
She was trained by Juan G. Aleman and ridden by Jesus Ayala, Diego Herrera and Ramon Sanchez during her racing season that saw her win the Charger Bar Handicap (G1), Abigail Kawananakoa Stakes, California Breeders Matron Stakes (RG3) and Las Damas Handicap (G2).
World Champion Empressum's half-brother Hes Judgeandjury was named champion 2-year-old and champion 2-year-old gelding. The son of Hes Relentless out of the First Down Dash mare Crazy Down Corona also races for their breeder/owners Jeff Jones and Steve Holt and is trained by M. Heath Taylor.
Hes Judgeandjury was ridden by James Flores and Rodrigo Vallejo during his eight starts in which he earned $1,931,167. He was third in the Ruidoso Futurity (G1) and fifth in the Rainbow Futurity (G1), won the All American Futurity (G1) and was third in the Los Alamitos Two Million Futurity (G1).
The winner of the Los Al Two Million, Cyber Attack, earned champion 2-year-old colt honors. He is raced by Rosenthal Ranch LLC, was trained by Christopher O'Dell and ridden by Eduardo Nicasio.
Cyber Attack, who was bred by Dr. Steve D. Burns, is by Favorite Cartel and out of the Corona Cartel mare Remember Me Rose. He won four of seven starts and earned $1,151,917. In addition to his season-ending victory, he also was second in the Rainbow Futurity (G1) and second in the Golden State Million Futurity (G1).
The most-raced champion of 2022, Jes An Angel earned the champion 2-year-old filly title after winning seven of 11 starts and earning $319,296. Bred by AQHA Past President Jerry Windham, Jes An Angel is by Jess Zoomin and out of the First Down Dash mare Ms Kates Angel.
She is owned by Lance R. Moore, Brad Williams and Don Forbes. She was trained during the year by Lance Moore, Dustin Rhodes, Bobby Nixon and Marc Jungers. She was ridden by Camilo Castillo, Noe Garcia Jr. and Bryan Candanosa, and her stakes wins include the Southwest Juvenile Championship (G2), Black Gold Fillies Futurity and Old South Futurity.
The champion 3-year-old was KJ Desparado, who was also named the champion 3-year-old gelding. He races for his breeders, John and Kathy Lee of L&L Land & Cattle, in partnership with Ruben I. Mares. Trained by Wesley T. Giles and ridden by Adrian A. Ramos, KJ Desparado won six of eight starts and earned $667,642, highlighted by victories in the Grade 1 Texas Classic and Ruidoso derbies.
Sired by Apollitical Jess and out of the Tres Seis mare Tres Veses, the gelding is approaching the sport's all-time earnings record, as he currently has career earnings of $2,772,603.
Golden Boi, the 2021 champion 2-year-old colt, fortified his resume in 2022 as champion 3-year-old colt. The son of Favorite Cartel out of the Toast To Dash mare Logans Dash races for his breeder, M and G Farms Inc. He was trained by Valentin A. Zamudio and ridden by Ruben Lozano to win four of six starts and earn $232,856.
His year was highlighted by victories in the Sgt Pepper Feature Handicap and El Primero Del Ano Derby (G2), as well as a third-place finish in the Los Alamitos Super Derby (G1).
Political Rose was named champion 3-year-old filly after a five-start undefeated year that included a win in the All American Oaks (G1) and Heritage Place Oaks. Bred by Stone Chase Stables LLC and owned by Dunn Ranch, the daughter of Apollitical Jess out of the Carters Cartel mare Cartel Rosie was trained by Monty Arrossa and ridden by Jesus Rios Ayala. She earned $339,841 in her championship year.
The distance champion is another repeat winner, as Rogers Farms' 7-year-old gelding Wascallywittlewabbit dashed to three wins from five starts and earnings of $105,810. Sired by Heza Motor Scooter and out of the Rabbits Rainbow mare Rabbits N Diamonds, he was bred by Mike Weatherly, trained by Michael W. Joiner and ridden by Benito Jude Baca and Josh Romero. His stakes wins include the Remington Park Distance Championship (G1) and Pauls Valley Stakes (G2).
A two-time past Canadian champion picks up a third non-consecutive title, as Had To Be Ivory was recognized again for breeders/owners Carol and Jaime Robertson for a stellar and undefeated six-for-six year in which he earned $62,354.
The 2015 gelding by Ivory James is out of the Hadtobenuts mare Had To Be Fandango. He was trained by Bryn Robertson and ridden by Josh Scott and Cory Spataro, and he won the Alex Picov Memorial Championship, QROOI Distance Stakes Series, Ontario Bred Maturity, QROOI Distance Series #1 and Picov Maturity.
Freddy Mandujano Gutu's Rey Alfredo was well named, as he was a king in American Quarter Horse racing at Hipodromo de las Americas, winning seven of eight starts to be named Mexican champion.
The 3-year-old gelding by Fearless Fritz and out of the Corona Cartel mare Proud Corrina was bred by Rachuan Suarez MVZ. He was trained by Nahum De Jesus Lagunes and Luis Enrique Cruz Solis, and was ridden by Jose Angel Ambrosio and L. Vidana to earn $89,986. His year included victories in the Subasta Selecta Derby, Mexico Derby and Desafio Crianza Mexicana Derby.
The South American Champion is chosen among AQHA registered horses competing in South America, and their official AQHA record is considered in the voting process. The 2016 stallion Augustus Verde, a son of No Secrets Here and out of Orly Vista by Nordick Only VM BRZ, is the champion representing the Southern Hemisphere. Bred and raced by Mauro Eli Zaborowsky, the horse was consistent in five starts and earned $6,840. He was trained by A. J. Macedo and ridden by Julio Cesar Jara Medina and C. Medina.
Dr. Steve D. Burns has been named the sport's champion breeder for the second time. He bred 816 starters during the year and saw them win 120 starts and earn $4,354,939. Among them were champion Cyber Attack and Grade 1 winner Bomb Cyclone.
Partners Jeff Jones and Steve Holt's year in racing is one in which legends are made and are honored as the champion owners. They raced only two homebred horses – including world champion Empressum and champion 2-year-old Hes Judgeandjury – and saw them win nine of 14 starts and earn $2,519,063, as well as bringing home the trophies for two of the sport's most prestigious races – the All American Futurity and Champion of Champions.
The trainer for the champion owners, M. Heath Taylor, earned the Blane Schvaneveldt Champion Trainer title. The Louisiana-based trainer saddled 479 horses and led all trainers with $5,099,845 in earnings.
James Flores earns the champion jockey title for the third time in four years after winning 57 of 328 starts and earn $3,941,248. His year was highlighted by a victory in the All American Futurity aboard champion Hes Judgeandjury.
* * * * * * * * * * * * * * *
AQHA News and information is a service of the American Quarter Horse Association. For more news and information, follow @AQHA Racing on Twitter, "like" Q-Racing on Facebook, and visit www.aqha.com/racing.