RACING THIS WEEK
FEATURES
SERVICES
Dr. Justin Robinson, shown in a mug shot from the Bexar County Sheriff's Office.

© Bexar County Sheriff's Office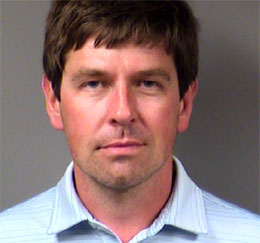 Veterinarian Robinson Gets Probation, Fine In 2017 Texas Quarter Horse Doping Case
by Ray Paulick, PaulickReport.com
Veterinarian Justin Robinson, criminally charged in 2017 with multiple counts of illegally influencing the outcome of a horse race, was given a $500 fine and probation in a deferred adjudication agreement approved in Bexar County District Court in San Antonio, Texas, Feb. 28.
Robinson was named as the attending veterinarian in connection with a series of Class 1 positive drug tests from horses trained by then-reigning AQHA champion trainer Judd Kearl and two others. The drug detected was nomifensine, an anti-depressant that has not been legal in the U.S. since the 1980s.

Kearl was suspended a total of 19 years by the Texas Racing Commission. Trainers Jose Sanchez and Brian Stroud were suspended four years and one year, respectively.
Monica Guerrero, attorney for Robinson, said the deferred adjudication includes three years of probation, during which time he will not be allowed to practice veterinary medicine in the state of Texas. Robinson was also required to submit to 80 hours of community service, though as an option could make a $500 donation to Haven for Hope, a homeless shelter in San Antonio.
If all the conditions of the deferred adjudication are met, Guerrero said, the charges may be removed from Robinson's permanent record. In addition to the $500 fine, Robinson was assessed $375 in court costs.
The deferred adjudication agreement, approved by Judge Frank Castro, was reached weeks before a scheduled April 3 jury trial.
Published courtesy PaulickReport.com.