RACING THIS WEEK
FEATURES
SERVICES
Armando Cervantes (pictured) is tied with Kevin Camacho for the lead in the overall jockey standings at Los Alamitos Race Course.

© William Zuazo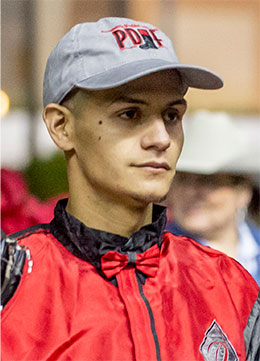 Cervantes And Figueroa Among Red Hot West Coast Jockeys
LOS ALAMITOS, CA—MARCH 18, 2023— Since February 1, jockeys Armando Cervantes and Kevin Camacho are tied for the lead in the overall jockey standings in wins.
Cervantes is winning at 36% clip with eight Quarter Horse wins coming his 22 mounts down the straightaway, while Camacho has won at a 42% ratio with eight victories from 19 starters in Thoroughbred and Mixed-breed races.
Cervantes enjoyed winning rides in the Brad McKinzie Los Alamitos Winter Championship with the outstanding Apollitical Pence and in the Los Alamitos Winter Derby with Take A Swig Of This. Camacho, who has been a great addition to the jockey's room at the Cypress oval, is currently on the mend with a leg injury.
Edgar Payeras and Cerapio Figueroa have also been red-hot since February 1 with seven wins each. Payeras has won at a 25% clip and has hit the board with a solid 57% of his mounts, while Figueroa, who has a riding triple last Sunday, is winning on 44% of his trips around the 5/8th oval here.
Others with impressive recent numbers include Victor Salazar, who has scored wins with four of his 11 mounts (36.4% win ratio) and Francisco Orduna Rojas and Cesar Ortega, both of which have hit the board with more than 60% of their rides over the past six weeks. For the season, Orduna Rojas is the leading overall rider with 20 victories from 74 starters (27% win ratio) followed by Cervantes, Figueroa, and Henry Reynoso Lopez with 13 wins each.
In the training category, Monty Arrossa's stats are like Cervantes' stats, who has first call in his barn. Arrossa has won with eight of his 21 starters since February 1. Angela Aquino has been the busiest trainer by far over the past 1 ½ months, as she's sent out 49 starters for seven wins.
Paul Jones, this track's second all-time leading trainer, has won with six of his 20 starters during this time, good enough for a 30% win ratio. Ricardo Guillen has also been noteworthy, as he's picked up four wins from just six starters for an impressive 67%-win figure.
* * * * * * * * * * * * *
For more info' please contact larace@losalamitos.com. Follow us on Twitter or Instagram at @losalracing or visit us online at www.losalamitos.com.