RACING THIS WEEK
FEATURES
SERVICES
Joe Merrick discusses his new book on the phenomenal 2-year-old season of the legendary Easy Jet on episode 32 of the QH Racing Talk.

© Courtesy WRCA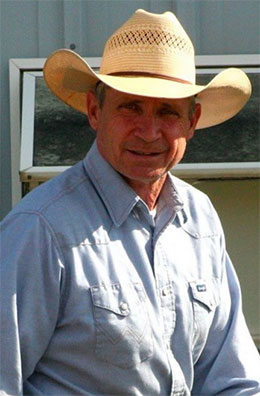 QH Racing Talk Podcast: Episode 32 - Author Joe Merrick (AUDIO)
DALLAS, TX—MAY 12, 2023—StallioneSearch continues the 2023 podcast season with the debut of episode 32 of the QH Racing Talk Podcast today, featuring a discussion with first-time author Joe Merrick about his upcoming book surrounding Easy Jet's remarkable two-year old campaign in 1969 where he was named world champion.
As the son of AQHA Hall of Fame member Walter Merrick, Joe Merrick was a 12-year-old boy during the legendary run of his father's trainee in 1969 and has taken to writing the upcoming book that will give the account of those events in 1969 from the perspective of the pre-teenage adolescent.
Merrick is in the finishing stages of authoring the book, however release date has not been set.
The AQHA Hall of Fame runner and sire Easy Jet's epic two-year old campaign saw the son of Jet Deck score 22-victories from a lofty 26-starts as a two year-old.
During that run in 1969, Easy Jet qualified for and claimed victories in the Blue Ribbon Futurity, Columbus Triple Crown Futurity, Lubbock Downs, Futurity, Laddie Stakes at Centennial Park, Rocky Mountain QHA Futurity, All American Congress Futurity, Sunland Park Fall Futurity, Kansas Futurity, and the All American Futurity at Ruidoso Downs.
Past QH Racing Talk podcast episodes can be found and listened to 'on-demand' on the podcast page of StallioneSearch.com (link found at the top of the homepage). Past podcast participants include Hall of Fame members Danny Cardoza, G.R. Carter, James Lackey, Cody Jensen, Jacky Martin, D. Wayne Lukas, Steve Asmussen, and D. "Sleepy" Gilbreath.
CLICK HERE and then click the "green arrow button" at mid-page to listen to episode 32 of Quarter Horse Racing Talk.
* * * * * * * * * * * * * * * *
StallioneSearch.com's previously released podcasts are available to listen on demand on the QH Racing Talk page contained within StallioneSearch.com. QH Racing Talk podcasts also can be found on StallioneSearch's Facebook page, Twitter, iTunes, and Spotify.
Hosted by Greg Thompson of StallioneSearch.com, "QH Racing Talk's" format is designed to include special guests of industry significance to participate in discussions of various Quarter Horse Racing related topics.
Lip Chip, LLC., Lawley's Equine Supplement, the stallions of Cavenaugh Quarter Horses, the stallions of Robicheaux Ranch, Inc., new sire for 2023 Golden Boi, and the stallion roster of Royal Vista Ranch,LLC, are "QH Racing Talk" podcast sponsors for 2023.