RACING THIS WEEK
Additional Challenges

Current Nominees and Sustaining Payments
FEATURES
SERVICES
Cox Ranch joins lineup of Racing Challenge sponsors again in 2020.

© Coady Photography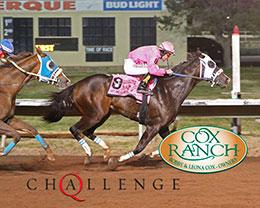 Cox Ranch Returns As Distance Challenge Championship Sponsor
AQHA RACING—FEBRUARY 17, 2020—
Cox Ranch has agreed to rejoin a group of valuable sponsors for the Bank of America Racing Challenge program, which provides more racing opportunities for American Quarter Horses around the world.
This is the third year that Bobby D. Cox's Cox Ranch has provided sponsorship of the Cox Ranch Distance Championship (G1), contested as part of the Bank of America Challenge Championships to be conducted at the Downs at Albuquerque on October 24, 2020.
It joins a group of other valuable sponsors that help supplement the Racing Challenge program, which serves horsemen with rich purses for horses of all ages.
Headlining the group of sponsors is Bank of America, which is not only the program's title sponsor, but also the sponsor for the Bank of America Championship division, a 440-yard test for horses age 3 and up. Bank of America offers valuable financial programs, including a special AQHA credit card available only to AQHA members.
Adequan® is the sponsor for the Adequan® Derby division for 3-year-olds. American Regent Health is dedicated to advancing joint care for horses with FDA-approved prescriptions, including Adequan® i.m.
John Deere is the sponsor for the John Deere Juvenile division for 2-year-olds. With a group of quality products from tractors to utility vehicles, AQHA members can receive up to a 28 percent discount on select John Deere equipment through AQHA Members Plus. This is also available in Canada.
Awards Recognition Concepts is the sponsor for the ARC Distaff division for fillies and mares age 3 and up. A subsidiary of AQHA, ARC can fulfill your awards, trophies and buckle needs with a variety of customizable goods.
Cox Ranch is the base of leading owner and breeder Bobby D. Cox in Peaster, Texas. There, they produce some of the premiere racing American Quarter Horses. In recent years alone, this has included the likes of La Vencedora ($516,296), Hawkeye ($219,737), Duponte ($921,237), Chazaq ($963,664), and many more. The ranch also raises commercial cattle, with an annual production sale in October.
* * * * * * *
For the latest in American Quarter Horse racing news, visit aqha.com/racing.
AQHA News and information is a service of the American Quarter Horse Association. For more news and information, follow @AQHAnews on Twitter and visit aqha.com/news.