RACING THIS WEEK
Additional Challenges

Current Nominees and Sustaining Payments
FEATURES
SERVICES
Handicapping the Adequan® Weber Derby Challenge at Weber Downs.

© Weber Downs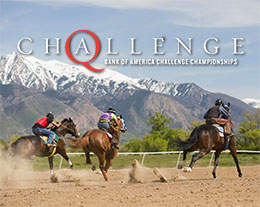 Burgart Blog: Adequan® Weber Challenge
By Ed Burgart
AMERICAN QUARTER HORSE ASSOCIATION—APRIL 29, 2021—Although Saturday's Adequan® Weber Derby Challenge is a non-betting affair, due to Utah wagering laws, I can still use key handicapping angles while predicting the top finishers in a race, which qualifies the winner for the Adequan® Derby Challenge Championship (G3) final at The Downs at Albuquerque on October 23.
On April 18, 11 sophomores competed in two derby trials to determine the 10 finalists in the 400-yard regional finals this Saturday. Utilizing a key handicapping technique of "key and productive races," I can surmise that Proud Movin Renegade and Echo Of Thunder are clearly the horses to beat.
Cady Shack Creek and Fortunes Wild Blood have also been competitive in key races, while JR Hiway 33 bids for his third straight victory. JR Prissy Kiss is another possibility based on solid 2020 form.
The other four finalists – SB Holly Wood, Fighting Mad, Skyywalker and Coronas Walk – appear overmatched while only combining for three wins from 24 starts.
It is hard to get past Proud Movin Renegade and Echo Of Thunder as the key horses. While I don't have the luxury of watching the videotape replays of the two trial races, I can easily see that Proud Movin Renegade and Echo Of Thunder both ran 1 length faster than third-fastest qualifier JR Hiway 93.
Proud Movin Renegade also won last year's Bitterroot Futurity and was second in the Wild West Futurity as the 3-5 favorite at Los Alamitos. He eventually was fourth in a Los Alamitos Winter Derby trial vs. 1 1/2-length winner AB A Special Takeoff, who since has defeated allowance company at Los Alamitos.
Echo Of Thunder was only a neck behind Proud Movin Renegade in his Weber Downs trial, while making his first start since capturing the Beehive Futurity at Laurel Brown last June when he beat KP Dillon by three-quarters of a length. KP Dillon since has won the Wyoming Futurity.
Echo Of Thunder appears to have more room to improve than Proud Movin Renegade, who is now making his 10th lifetime start. Echo Of Thunder drew the outside post in Saturday's 12th race at Weber Downs while Proud Movin Renegade is also nicely drawn in Post 8.
Other threats include Cady Shack Creek, who lost a nose decision in last year's Wyoming Futurity captured by previously mentioned Beehive Futurity winner KP Dillon. Fortunes Wild Blood ran third in last year's John Deere Pocatello Juvenile Challenge that was taken by The Prize Ferarri, a four-time lifetime winner.
Cadys Shack Creek is drawn in Post 9 between Proud Movin Renegade and Echo Of Thunder.
JR Hiway 93 nosed out Cady Shack Creek in winning the second Adequan® Weber Derby Challenge trial, but has been no match versus Proud Movin Renegade and Echo Of Thunder in 2020.
JR Prissys Kiss' best effort was a 1-length setback when second in last year's Utah Bred Futurity won by No Hesitation, an eventual PCQHRA Futurity trial winner at Los Alamitos.
Thus, I look for either Proud Movin Renegade or Echo Of Thunder to emerge victorious Saturday.
* * * * * * *
AQHA News and information is a service of the American Quarter Horse Association. For more news and information, follow @AQHAnews on Twitter and visit aqha.com/news.