RACING THIS WEEK
Additional Challenges

Current Nominees and Sustaining Payments
FEATURES
SERVICES
Enroll or nominate online to the Bank of America Racing Challenge.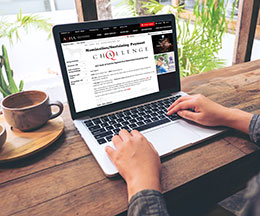 Challenge Enrollment Online
AMERICAN QUARTER HORSE ASSOCIATION—APRIL 28, 2021—
Owners looking to enroll a horse into the Bank of America Racing Challenge, or to nominate a horse for a regional stakes race can now do so through an online form.
If you would like to enroll or nominate a horse in the Bank of America Racing Challenge, visit the Challenge Racing Forms page.
"We are thrilled to provide this option for our Challenge customers," said Manager of Racing Department Malynda Reed. "The online payments are quick, easy and safe."
Enrollment in the Bank of America Racing Challenge is good for the lifetime of a horse, and opens the opportunity to participate in any Bank of America Racing Challenge races, including regional stakes held around the world.
In addition, the online nomination form will allow you to pay the nomination, sustaining and/or late payments for regional Challenge races, as well as hair testing payments, if necessary.
These enhancements are added to current payment offerings, including mailing payments or doing payments over the phone.
* * * * * * *
AQHA News and information is a service of the American Quarter Horse Association. For more news and information, follow @AQHAnews on Twitter and visit aqha.com/news.