RACING THIS WEEK
Additional Challenges

Current Nominees and Sustaining Payments
FEATURES
SERVICES
Get handicapping tips for the Adequan® Los Alamitos Derby Challenge and Q-Racing Video Grants Pass Distaff Challenge.

© Los Alamitos Race Course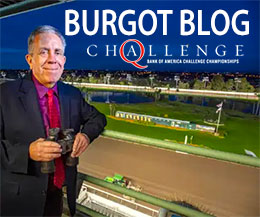 Burgart Blog: Los Alamitos and Grants Pass Challenge Races
Q RACING—MAY 21, 2021—
Based on some of my key handicapping angles that comprise class, video tape observations and comfortable post position draws, I look for Ilushion Eagle to capture Sunday's Adequan® Los Alamitos Derby Challenge at Los Alamitos and expect Loco Ocho to win Tuesday's Q-Racing Video Grants Pass Distaff Challenge.
The winners of both races earn berths into their respective challenge finals to be conducted on Bank of America Challenge Championship night October 23 at The Downs at Albuquerque, New Mexico.
Now, I will break down the top contenders in both races and look at wagering strategies that can provide some value on two horses expected to rule as solid betting favorites.
In the 400-yard Adequan® Los Alamitos Derby Challenge, Ilushion Eagle encountered a much-troubled trip when third versus older horses in his last outing, an allowance outing on May 2. He bobbled out to get bumped from both sides, lost his path from between horses during the first 50 yards, shifted to the far outside before the 1/8-pole and was loaded with run late. The winner, Black Fryday, has career earnings of $351,278 and won the Governor's Cup and Southern California derbies when he was 3 years old.
Now, Ilushion Eagle is comfortably drawn on the far outside in a six-horse field and looked terrific in three prior victories. He had the fastest qualifying time for the Los Alamitos Maiden Stakes (not an official stakes) last February, but became fractious at the gate of the final and was scratched.
Among Ilushion Eagle's rivals is Eyesa Timber, the AQHA Canadian champion of 2020. However, he beat a much softer field in his last Canadian futurity victory seven months ago. The runner up, Jess Be First, had only one prior victory against maidens. Eyesa Timber went handily while drifting inward in an :18.0 Los Alamitos gate drill, but lacks the recent racing advantage that Ilushion Eagle has.
Thus, my second pick is A Dash Of Sign who was a troubled fourth five weeks ago at Los Alamitos when losing his running lane before the 1/8-pole after a sluggish start. After shifting inward one lane, he finished with big strides and should enjoy the added distance.
Jet Wings One looms the other threat, but hasn't started in a year since a head setback when second in the Kindergarten Futurity (G2). Running 400 yards after a one-year layoff is a daunting task.
Thus, my suggested wager is a 6-4 exacta with Ilushion Eagle and A Dash Of Sign.
At Grants Pass next Tuesday, I expect Loco Ocho and First Moon Cat to complete the exacta. Loco Ocho holds a decisive class edge and First Moon Cat has a sharp recent win over the Grants Pass oval. Both are well drawn in the 400-yard race in which Loco Ocho starts from the outside post in the eight-horse field while First Moon Cat breaks from Post 6.
Loco Ocho was a strong third in the AQHA Distaff Challenge Championship (G1) last October in Albuquerque. The first two finishers, Lynnder 16 and JR Prissys Blood, have combined for 27 lifetime victories. In Tuesday's Grants Pass Distaff Challenge, Loco Ocho faces seven foes who have captured a total of 18 races.
I fear First Moon Cat, though, and suggest an 8-6 exacta box while favoring Loco Ocho the most. First Moon Cat leveled nicely in an allowance win May 11 at Grants Pass after lugging in badly early.
One Flyin Foose and RTM Good Enough are horses I suggest using in trifecta and superfecta wagers with Loco Ocho and First Moon Cat. One Flyin Foose regressed at the end of her 2020 campaign, but was third in the Bank of America Emerald Championship Challenge last August.
RTM Good Enough won nicely but beat a very soft field in the Idaho Cup Derby last September when scoring a neck win over Tricky Dasher who remained a maiden before scoring her first win this year.
My suggested wager then at Grants Pass is an 8-6 exacta box and a trifecta of 6,8 with 1,5,6,8 with 1,5,6,8.
* * * * * * *
AQHA News and information is a service of the American Quarter Horse Association. For more news and information, follow @AQHAnews on Twitter and visit aqha.com/news.