RACING THIS WEEK
Additional Challenges

Current Nominees and Sustaining Payments
FEATURES
SERVICES
Upcoming Bank of America Racing Challenge payments due in March.

© Ginny Harding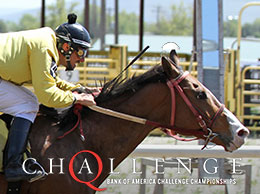 March Racing Challenge Payments
Q-RACING—FEBRUARY 17 2022—
Payments for
Bank of America Racing Challenge
regional races are due in March.
Winners of regional races are eligible to compete at the end-of-year Bank of America Challenge Championships at Horseshoe Indiana (formerly known as Indiana Grand) on October 22.
$400 Nomination payments are due March 1 for:
DERBY
$30,000-added Adequan® Los Alamitos Derby Challenge – Los Alamitos, Los Alamitos, California
Trial date is May 1, final is May 22
DISTAFF
$20,000-added Q-Racing Video Sun Downs Distaff Challenge – Sun Downs, Kennewick, Washington
Trial date is April 24, final is May 8
$800 Sustaining payments or $2,500 late payments are due March 15 for: DISTANCE
$30,000-added AQHA Remington Distance Challenge (G2) – Remington Park, Oklahoma City, Oklahoma
Trial date is April 9, final is April 23
You can make payments online via the Online Challenge Nominations page. To make payments by phone, call the Racing Challenge Hotline at 877-222-7223 or email mreed@awha.org.
Mail payments to:
Bank of America Racing Challenge
P.O. Box 32892
Amarillo, TX 79120
* * * * * * * * * *
CLICK HERE to download a 2022 Regional Race Nomination / Sustaining Form.
For the complete 2022 Bank of America Challenge schedule, including payment dates, CLICK HERE.
* * * * * * * * * *
For the latest in American Quarter Horse racing news, visit aqha.com/racing.
AQHA News and information is a service of the American Quarter Horse Association. For more news and information, follow @AQHAnews on Twitter and visit aqha.com/news.