RACING THIS WEEK
FEATURES
SERVICES
J.R. Ramirez will pilot the Quarter Horse Up N Fly in the sixth race on Saturday night.

© Scott Martinez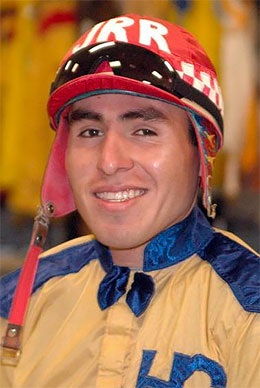 Jockey J.R. Ramirez Back At Los Alamitos
LOS ALAMITOS, CA—JANUARY 10, 2020—
J.R. Ramirez, one of the most successful jockeys in Quarter Horse racing history, is back riding at Los Alamitos and will pilot the Quarter Horse Up N Fly in the sixth race on Saturday night.
Ramirez, who ranks 22nd all-time in Quarter Horse wins with 1,517 and 25th in earnings with over $21.4 million, made a brief appearance here in December and said that he was looking forward to spending several months at Los Alamitos in 2020.
"I have a lot of great memories riding at Los Alamitos," Ramirez said. "I've always enjoyed it here."
Ramirez piloted champions Higher Fire and Jess You And I to million dollar futurity wins at Los Alamitos. He guided the filly Higher Fire to wins in the Ed Burke Million Futurity and Golden State Million Futurity in 2005.
He then piloted Jess You And I to victory in the 2006 Golden State Million Futurity. Ramirez has also ridden Tac It Like A Man, Gold Nugget Rd and AQHA world champion Oak Tree Special.
Ramirez has finished in the top 10 nationally in wins five times and in earnings five times as well. He was third in the nation in earnings in 2005 after piloting AQHA champion filly Higher Fire and Kindergarten Futurity winner Gold Nugget Rd to their futurity wins.
The eighth race is the feature event on the card with six Quarter Horses facing off at 300 yards. Francos Ranch and Mario Tellez Montiel's Miss Montielita is one of the top contenders after winning two of her last four starts. Special JB, a two-time winner in 2019, is another of the top contenders in this race.
* * * * * * * * * * * * * *
Courtesy of www.losalamitos.com.