RACING THIS WEEK
FEATURES
SERVICES
StallioneSearch.com will sponsor the Golden Spike Championship in Ogden, Utah on Saturday.

© American Chariot Racing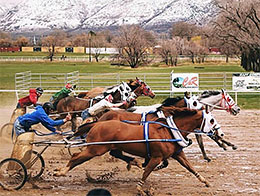 Golden Spike Championship Chariot Event Set for Saturday
OGDEN, UT—JANUARY 17, 2020—This Saturday, chariot racing action continues with the Golden Spike Championship, sponsored by StallioneSearch.com.
Chariot racing in Ogden is held at the Golden Spike Event Center at the Weber County Fairgrounds in Ogden, Utah; also the home of more traditional Quarter Horse racing each spring during the Weber Downs meet.
Chariot racing has a long history in the Intermountain region and recent efforts to create new opportunities for competitions and purse money is helping to revive the sport and attract the next generation of trainers, drivers and fans.
A longtime family tradition for many, chariot racing has declined and consolidated over the years. Luckily for supporters in Utah, American Chariot Racing stepped up several years ago to conceptualize and offer a new approach to the weekly winter event.
The current format, now in its second season, features sponsored events, payouts, and points for World Championship division placement. In its first season, American Chariot Racing awarded over $50,000 to chariot teams.
Races are held most Saturdays from December to March, ending with the AQHA-recognized championship event. As many as three dozen teams compete each week, typically in 2-team races and occasionally in races of three teams. It is a race against the competing team as well as a race against the clock, as the teams contend for the fastest times of the day and weekly payouts.
Expect to see familiar faces hooked up on the track as many successful flat-racing Quarter Horses find second careers as chariot racers. This season alone, multiple stakes winners EC Cartel, PF Flyair and SP Foursquare have found their way to the winner's circle again in their new careers.
Season Recap
The Golden Spike Championship will be the fifth event of the 2019-2020 ACR season. Here are the results of the first four events:
Rocky Mountain Rumble, sponsored by Ed Kenley Ford: Jensen, Ropelato & Padgett won the first event with a time of 22.22 and earned a $814 payout. The team of EC Cartel and Namgispoliticaltease was driven by Bruce Jenson and trained by Tony Jenson.
Wasatch Classic, sponsored by KAPP Construction: Hadley Racing and C3 Ranch, driven and trained by Jordan Hadley, won the second event of the season in 22.10 and earned $765. Front and Center and PF Flyair were teamed up for the event.
ACR Invitational, sponsored by Pinnacle Construction and R/M Racing Stables: Jess and Grant posted the fastest time of 22.15 and earned a $626 payout with SP Foursquare and Train Story. Jess Udy trains; Jeff Sandberg was the driver.
Torrie Timm Gines Memorial Race: The first back-to-back win of the season, Jess and Grant repeated in fourth event of the year.
About ACR
American Chariot Racing was founded to create a level playing field, create purse money for chariot racers, provide a second career for retired racehorses, and to build, inform and excite a fan base for the sport. Follow ACR on Facebook, Instagram and on YouTube for results, news, draws, race previews and all replays of all races.