RACING THIS WEEK
FEATURES
SERVICES
Home
>
Preview Racing
>World Champion He Looks Hot Back In Action In Sunday's Winter Championship Trials
AQHA Racing World Champion He Looks Hot will head three trials on Sunday for the Grade 1, $159,550 Brad McKinzie Los Alamitos Winter Championship at Los Alamitos Race Course.

© Scott Martinez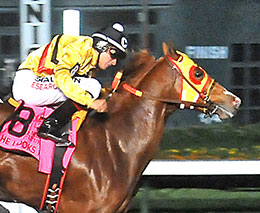 World Champion He Looks Hot Back In Action In Sunday's Winter Championship Trials
LOS ALAMITOS, CA—JANUARY 18, 2020—
Newly crowned AQHA Racing World Champion He Looks Hot will make his 2020 debut when he headlines a star-studded cast of older horses in the trials to the Grade 1, $159,550 Brad McKinzie Los Alamitos Winter Championship on Sunday night.
Nineteen horses will compete in the 400-yard trials with the horses with the 10 fastest times returning for the final on Sunday, February 9. The Brad McKinzie is the first race of the year that offers a provisional berth to the Champion of Champions.
The new AQHA Racing World Champion could punch his ticket to a record tying fifth Champion of Champions right out of the gate, if he qualifies on Sunday and then wins the final. The only horses to have raced in five Champion of Champions are Refrigerator and Jess You And I. The son of Walk Thru Fire has won three other open Grade 1 stakes races over his career, scoring in the Grade 1 Los Alamitos Two Million Futurity, Grade 1 Vessels Maturity and Grade 1 Robert Boniface Los Alamitos Championship. He also won last year's Restricted Grade 1 Spencer Childers Handicap.
"He's a tank," said Vinnie Bednar describing He Looks Hot.
"He's an exceptional horse," trainer Scott Willoughby said. "He's been through so much in his career."
He Looks Hot underwent three colic procedures during his lifetime, yet he's always come back to race against the best of the best. He reached the pinnacle of the sport on December 14 when he won the Champion of Champions and now he prepares to do it all over again starting on Sunday night.
He Looks Hot will start from post number one in the second trial and will be facing a group that includes 2019 All American Derby runner-up Jess Macho Corona and 2018 Los Alamitos Winter Derby winner Jess My Kiss.
The opening trial is outstanding as Powerful Favorite and Katies Easy Moves, a pair of Grade 1 winners in 2019, will face off in the 400-yard trial.
Racing for AQHA champion owner Rosenthal Ranch and from the barn of AQHA champion trainer Chris O'Dell, Powerful Favorite won last year's Grade 1 Los Alamitos Winter Derby and will be going after his eighth win in nine starts. Caballo Rapido and Five Livestock Company's Katies Easy Moves was scratched out of the Champion of Champions with a minor setback and returns after sharp :12.50 turn and work at 220 yards.
Hotstepper, the 2018 champion 3-year-old and All American Derby winner, will be in action against talented sprinters Favorite Motion and Eagles Fly Higher.
* * * * * * * * * * * * * *
Courtesy of www.losalamitos.com.