RACING THIS WEEK
FEATURES
SERVICES
PCQHRA Futurity winner Favorite Honey is among a strong field of contenders in the $35,000 Dillingham Handicap for 3-year-olds on Saturday at Los Alamitos. 

© Scott Martinez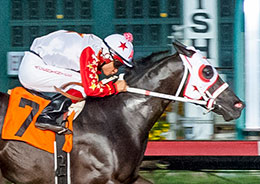 Watch Out, Favorite Honey Headline Saturday's Dillingham Handicap
LOS ALAMITOS, CA—MAY 12, 2022—El Primero Del Año Derby finalists Favorite Honey, Watch Out, and Insider Information are among the talented sophomores that will get together in the $35,000 Dillingham Handicap for 3-year-olds on Saturday at Los Alamitos.
The Dillingham will be contested at 400 yards and of the eight entrants to this race, Favorite Honey and Watch Out have already enjoyed wins at this distance.
Owned by Ed Allred and trained by James Glenn, Jr., Watch Out has won twice before at 400 yards. At that distance, he won his trial to the Grade 2 El Primero on March 6 and won his trial when qualifying to the Grade 1 Los Alamitos Two Million Futurity last year. He was second to recent La Pacifica Handicap winner She Goes Up in the Governor's Cup Futurity at 350 yards last year.
Owned by Five Livestock Company LLC and Steve Wright, Favorite Honey won the Grade 2 PCQHRA Breeders Futurity last season before joining Watch Out in both the Two Million and El Primero finals. His win at 400 yards came in the Two Million trials.
This could also be a big weekend for Favorite Honey's owners as they campaign Chicks First Flash, who is the fastest qualifier to the Robert Adair Kindergarten Futurity to be held on Sunday.
Barry Woodhouse's Insider Information is the other El Primero grad. He was second to eventual winner Golden Boi in the trials but had a troubled trip when ninth in the final. Vamoosing, All Ways, Cactus Jack, Extreme Reasons and Look Up will also race.
They've all won in 2022.
* * * * * * * * * * * * * *
For more info, please contact larace@losalamitos.com. Follow us on Twitter or Instagram at @losalracing or visit us online at losalamitos.com.