RACING THIS WEEK
FEATURES
SERVICES
Home
>
Preview Racing
>Chicks Fayvorite Heads Schvaneveldt; Justamitch Wins Again; Matties Headed To NHC
Chicks Fayvorite will look to repeat in the $35,000 Blane Schvaneveldt Handicap.

© Scott Martinez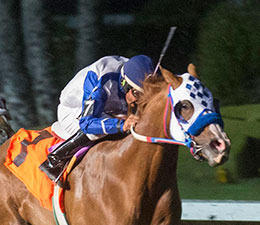 Chicks Fayvorite Heads Schvaneveldt; Justamitch Wins Again; Matties Headed To NHC
LOS ALAMITOS, CA—SEPTEMBER 28, 2022— Racing for the Estate of Martha Wells, the nine-year-old Chicks Fayvorite will look to repeat in the $35,000 Blane Schvaneveldt Handicap when he faces five rivals in the 400-yard race for horses from the Intermountain region, Canada, Arizona and Nevada.
Chicks Fayvorite became a multiple stakes winner when he won last year's Blane Schvaneveldt, an effort that made the late Mimi Wells proud. The gelding by Favorite Cartel was also picking up his first ever win at Los Alamitos. Matt Fales, who will saddle Chicks Fayvorite, will be looking to win the Schvaneveldt for a record fourth time.
My Game Plan, winner of the Los Alamitos Maiden Stakes will also be in action here. Boondarbian, Old School Icon, Too Sass For You, and Soul Sister will complete the field.
The Legend Of Justamitch
With every race, Silvia Soto's Justamitch is becoming more and more a big part of Los Alamitos history.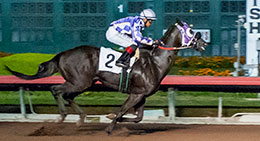 Justamitch is becoming more and more a big part of Los Alamitos history
© Amber Mendez
The 12-year-old Justamitch is known as the "Grandfather of Los Alamitos," but his rivals have to respect their elder each time that they face off this Thoroughbred.
A stakes winner at 870 yards and a multiple winner at 4 1/2 furlongs and 1,000 yards, Justamitch is now dominating the 2 1/2 furlong distance at the Orange County oval. On Sunday night, Justamitch became a track record holder at the age of12, scoring his third win in a row at this distance while traveling from gate to wire in a time of :25.20. His winning time bettered the previous track mark of 25.30 posted by Asian Rain on June 18.
In his career, "Abuelo", which is grandfather in Spanish, has won 24 of 72 starts with his Sunday win taking him over the $200,000 mark in career earnings. Edgar Payeras piloted him for trainer Salvador Naranjo.
Carson Matties Wins Los Alamitos NHC Qualifier
Carson Matties, 22, will have a seat in the National Handicapping Championship for the first time in his life after winning the Los Alamitos NHC Qualifier on September 24.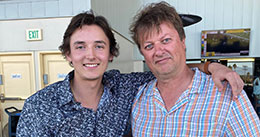 Son and father Carson and Duke Matties will have a seat in the National Handicapping Championship after finishing 1-2 at Los Al.
© Los Alamitos Race Course
Carson won the contest by $3, edging his father, Duke Matties, who is one of the most successful handicappers and tournament players in the nation. As the second-place finisher in this event, Duke also earned a seat in the 2023 NHC.
"I've been watching my dad play in the NHC final since I was 15," Carson said. "It's been my dream since then to qualify to the tournament and I finally did it."
* * * * * * * * * * * * * *
For more info, please contact larace@losalamitos.com. Follow us on Twitter or Instagram at @losalracing or visit us online at losalamitos.com.