RACING THIS WEEK
FEATURES
SERVICES
Bobby D. Cox of Fort Worth, Texas has purchased half-interest in leading sire Favorite Cartel.

© Los Alamitos Race Course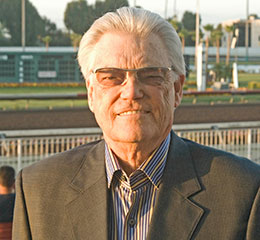 Bobby Cox Purchases Half-Interest In Leading Sire Favorite Cartel
FORT WORTH, TX—JANUARY 5, 2020—
Two-time AQHA Racing champion breeder and owner Bobby D. Cox has purchased half-interest in the 2019 Leading 2-Year-Old Sire of Money Earners
Favorite Cartel
.
The Grade 1 winning son of former Thoroughbred Horse of the Year Favorite Trick will continue to stand at Burns Ranch near Menfee, California. Cox purchased Paul Jones and Thompson Racing's half-interest in the stallion who is now owned by Burns and Cox. His 2020 fee will remain $12,500.
Last year Favorite Cartel led all 2-Year-Old sires with 77 winners, 13 stakes winners and earnings of $5,297,660, with average earnings per 2-year-old starter of $35,795. He was also the #2 overall Leading Sire of Money Earners with 149 winners, 28 stakes winners and earners of $7,616.234.
From only five crops to reach racing age, Favorite Cartel has sired 317 winners (63%), 110 black type (22%), earners of $16.1 million and average earnings per starter of more than $32,200.
His top performers include Lotta Blues Man SI 94 (8 wins to 4, $935,399 Golden State Million Futurity-G1, etc.), Cartel Jess Rockin SI 96 (3 wins to 2 2019, $840,640 Los Alamitos 2 Million Futurity-G1, etc. ), Powerful Favorite SI 98 (10 wins to 3, $754,876 Los Alamitos Winter Derby-G1, etc. ), Flokie SI 96 (4 wins to 2 2-10 , $704,253 Ed Burke Million Futurity-G1, etc.), Runforyourlife SI 92 (5 wins to 2, 2019 $583,153 Golden State Million Futurity-G1, etc.), Little Talks SI 94 (8 wins to 4, $563,897 Golden State Million Futurity-G1, etc. ), Tarzanito SI 102 (9 wins to 5, $429,657 AQHA Racing Champion, Go Man Go H.-G1, etc. ), Fernweh SI 97 (2 wins to 2, 2019 $424,800 Ruidoso Quarter Horse Futurity-G1, etc. ), Rite Regal SI 97 (13 wins to 6, $415,123 Golden State Derby-G2, etc. ), Cattail Cove SI 93 (3 wins to 2, 2019 $372,407 2nd Los Alamitos 2 Million Futurity-G1, etc.), etc.
Cox, who was the #4 Leading Breeder of Money Earners last year with 323 top 3 finishers from 743 starters, bred earners of $2,371,948 in 2019. The majority of Cox's mares domicile at Cox Ranch in Peaster, Texas, however he has ownership in stallions in Texas, Oklahoma and Louisiana.
Among the current stallions at stud that Cox owns in their entirety or in partnership are Champion and World Champion sire Stoli, Grade 1 sire Ivory James, Champion Moonin The Eagle, Champion Duponte, Grade 1-placed One Fabulous Eagle, Grade 1 sire Dominyun, Champion The Fiscal Cliff, Grade 1 sire Freightrain B, Champion and Grade 1 sire Carters Cartel.
Chad Hart, owner of Hart Farms in Kaplan, Louisiana, where Cox stands a number of his stallions, was they buyer's agent for the Favorite Cartel deal.