RACING THIS WEEK
FEATURES
SERVICES
Leading sire Pyc Paint Your Wagon was laid to rest earlier today at Lazy E Ranch in Guthrie, Oklahoma.

© Lazy E Ranch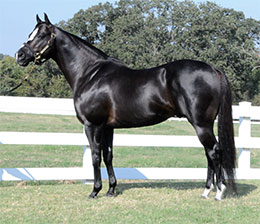 Leading Sire Pyc Paint Your Wagon Laid To Rest
By Ben Hudson, Track Magazine
GUTHRIE, OK—MARCH 11, 2020—Pyc Paint Your Wagon, who entered this year as the breed's No. 1 sire of money earners standing to the public, was laid to rest earlier today at Lazy E Ranch in Guthrie, Oklahoma.
Lazy E's Butch Wise said that the 17-year-old brown stallion was taken to Oklahoma State University in nearby Stillwater earlier in the week after showing signs of illness. On Tuesday veterinarians at OSU determined that the three-time Grade I winner and sire of earners of more than $35 million had cancer.
Pyc Paint Your Wagon was bred and raced by Michael Pohl. Trained by Jack Brooks, the son of No. 2 all-time leading sire Corona Cartel was ridden by Jacky Martin to wins in the Texas Classic Futurity G1 and the Heritage Place Derby G1 and was ridden by G.R. Carter, Jr., to victory in the Texas Classic Derby G1.
The 7-time winner earned $889,581 before departing the track and entering stud in 2007.
Pyc Paint Your Wagon moved to Lazy E just prior to the 2014 breeding season when Reliance Ranches became Pohl's partner in the stallion that is now the No. 1 siring son of Corona Cartel.
On the day of the passing of Pyc Paint Your Wagon, stallion manager Butch Wise had this to say: "Class is the word that defined Pyc Paint Your Wagon. He was a first class racehorse at two and three and becomes a sire of the very highest class. But for those of us that were fortunate to be around him every day his class was exhibited by his wonderful disposition and willing temperament that he passed on to his very successful offspring.
"He was such a 'class' horse to be around that he made you truly appreciate what a tremendous presence he possessed. 'Pyc' made a huge impact on our breed, and we are grateful to have had the opportunity to be associated with such a giant of our industry. There is no way to properly describe the loss that staff at Lazy E feels at his sudden passing. Our deepest sympathy goes out to owners Michael Pohl and Gary and Micah McKinney at this time.
Pyc Paint Your Wagon broke on top as the No. 1 Freshman Sire of Money Earners at $1.5 million in 2010 and never looked back.
In 2011 he was the No. 1 Sire of Stakes Winners and had $3.1 million in earnings.
Pyc Paint Your Wagon was the No. 1 Sire of Stakes Winners from 2011 through 2015 with 18, 21, 18, 18 and 22 stakes winners.
He was the No. 1 Sire of Money Earners in 2012 ($3.9 million) and 2015 ($4.8 million) and the No. 2 Sire of Money Earners in 2013 and 2014 ($3.6 million and $4.6 million).
From 2011 through 2019, he topped $3 million in earnings eight times (in nine years) with two of those years topping $4.6 million.
Pyc Paint Your Wagon has sired 111 stakes winners and 107 stakes placed winners with a remarkable 20% of his starters earning blacktype. He was the Leading Sire in the Nation in 2012 and the No. 2 Leading Sire in 2013 and 2014.
The No. 1 money earner for Pyc Paint Your Wagon is Rainbow Derby G1 winner Papaws Paint $679,612. He is alsothe sire of Champion Aged Stallion and G1 winner The Fiscal Cliff $580,435; Champion of Champions G1 winner Mr Pyc To You $488,820; multiple stakes winner Pyc Fun N Fancy $478,760, Remington Park Futurity RG3 winner Im A Fancy Pyc $454,755, multiple graded stakes winner This Candys Awesome $434,265, multiple stakes winner Wagon Tales $427,579 and multiple stakes winner Freighttrain B $421,761.
Stakes winning sons of Pyc Paint Your Wagon that have already experienced success as sires are the above-mentioned Freighttrain B, Wagon Tales, Im A Fancy Pyc, Lota Pyc, Fast Prize Jordan, Kool Wagon and Paint Me Perry.
Pyc Paint Your Wagon has made his mark as a significant broodmare sire as his daughters have already produced such runners as Grade I winners First Valiant Sign $1,053,833, 2019 Champion Two-Year-Old Gelding Trump My Record $791,153 and A Tres Of Paint $509,184. A leading maternal grandsire already, his daughters had earners of $3.3 million in 2019 with more than $2 million of that coming from two-year-old runners.
* * * * * * * * * * *
Pyc Paint Your Wagon semen will still be available to breeders by utilizing our frozen semen store and it will be available at the following locations:
6666 RANCH, Guthrie, Texas
BEUS RANCH, Spanish Fork, Utah
BURNS RANCH, Menifee, California
LAZY E RANCH, Guthrie, Oklahoma
ROBICHEAUX RANCH, Breaux Bridge, Louisiana
SANTA SOFIA EQUINE, Albuquerque, New Mexico
TEXAS A&M VETERINARY COLLEGE, College Station, Texas