RACING THIS WEEK
FEATURES
SERVICES
As a 3-year-old, Be a Bono was named World Champion Racing American Quarter Horse.

© Kentucky Horse Park
AQHA Racing World Champion Be A Bono Euthanized at 20
LEXINGTON, KY—APRIL 12, 2021—
American Quarter Horse Racing World Champion and the Kentucky Horse Park Hall of Champions resident, Be A Bono passed away this morning (April 12th) at the Kentucky Horse Park in Lexington.
At the age of 20, the gelding was euthanized due to complications from a hip fracture. Be A Bono became part of the elite group of champion horses that reside at the park's Hall of Champions in 2009.
"The Kentucky Horse Park was honored to have Be a Bono spend his retirement at the Hall of Champions," says Hall of Champions Manager, Rob Willis. "He was a true ambassador of the park and admired by the many guests who met him. His personality and 'Look of Eagles' will be missed."
Owned and bred by the late Spencer Childers of Fresno, California, the sorrel gelding was trained by Dan Francisco. Be A Bono was foaled February 22, 2001, and retired from racing as a 7-year-old. The gelding was sired by Childers' homebred Bono Jazz and out of his homebred Be Peacefull, a Raise A Secret mare who has produced two stakes winners and a stakes-placed runner.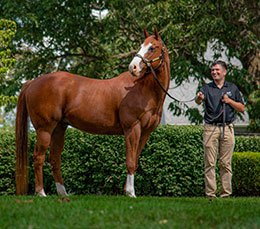 Be a Bono was retired from racing in 2007 and joined the Kentucky Horse Park Hall of Champions in 2009.
© Kentucky Horse Park
Be A Bono was the first world champion sired by Bono Jazz. The blaze-faced gelding finished his career with 14 wins in 26 starts and earned more than $1.3 million. In his final start, Be A Bono finished in a dead heat for the win in an allowance race December 22, 2007, and left the sport as the 19th-richest American Quarter Horse of all time.
Be A Bono was the only horse to finish second twice in the Champion of Champions – losing both races by a nose. Childers' homebred won the first seven races of his career. His notable wins included consecutive renewals of the Vessels Maturity (G1), the Golden State Futurity (G1), the Los Alamitos Winter Derby (G1), the Los Alamitos Super Derby (G1) and three consecutive wins in the race named after his owner-breeder – the Spencer Childers California Breeders Championship Handicap (RG1). As a 3-year-old, Be a Bono was named World Champion Racing American Quarter Horse.
Be a Bono made an impact off the track, as well. He became the first racehorse to receive stem cell therapy to treat a joint problem. That experimental treatment, (placing stem cells in his knee to repair damage caused by bone chips) was a success. He returned to racing in 2006 and won the Vessels Maturity for the second time, as well as the Go Man Go Handicap. Post-surgery, his final 220-yard times were among the fastest recorded at Los Alamitos Race Track.
The Kentucky Horse Park would like to extend a special thank you to Park Equine Hospital veterinarians for their care of Be A Bono in his final days.
Like the other great Hall of Champions horses that have passed during their retirement at the park, Be A Bono will be buried in the Memorial Walk of Champions near American Quarter Horses Tailor Fit and Sgt. Pepper Feature.