RACING THIS WEEK
FEATURES
SERVICES
Leading thrid-crop sire One Fabulous Eagle joins the Cox Stallion Station roster in 2023.

© Bee Silva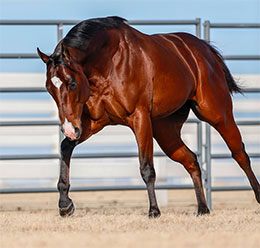 Cox Stallion Station Announces 2023 Fees For Eight Stallion Roster
KAPLAN, LA–NOVEMBER 2, 2022–Cox Stallion Station has set 2023 fees for its eight-stallion roster headed by by world champion sire Freighttrain B he will again by $8,500 and multiple stakes sire Ivory James who will remain $6,500 for the upcoming breeding season.
"Our 2023 roster is suited for breeders at every level," said Jerome Bellard, Cox's farm manager. Carters Cartel and Coronas Leaving You continue to offer breeders with options from prolific sire lines. We have added the outstanding leading third-crop sire One Fabulous Eagle."
One Fabulous Eagle who has been near the top of the leading sire's list his first and second crop leads in 2022 with 48 winners, 5 stakes winners and earners of over $1.5 million to date this year.. His leading money earner in 23 is the stakes winner Muy Peligrosito ($206,819).
Freighttrain B is a top-ten leading sire of money earners for 2023 with 66 winners, 6 stakes winners and earners of over $2 million.
Ivory James is the #5 leading sire of 2-year-old money earners in 2023 with 14 winners, 2 stakes winners, earners of $1.45 million led by multiple stakes winner Bye Corona Bye ($643,264).
Cox Stallion Station Stud Fees
• Carters Cartel $4,000
• Coronas Leaving You $3,500
• Dominyun $3,000
• Freighttrain B $8,500
• Ivory James $6,500
• Jess Different $1,000
• Moonin The Eagle $5,000
• One Fabulous Eagle $4,000
For additional information or breeding contracts call Jerome Bellard at (337) 643-3255.