RACING THIS WEEK
FEATURES
SERVICES
Breeders are reminded the 2023 TQHA Stallion Auction closes at Noon on Thursday, January 12th.

© TQHA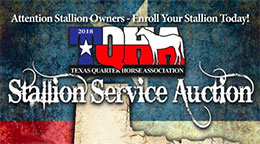 TQHA Stallion Auction Closing January 12th at Noon
ELGIN, TX–JANUARY 9, 2023–Reminder the 2023 TQHA Stallion Auction closes at Noon on Thursday, January 12th.
There are still some great breeding bargains to be had as well as breedings to a couple of stallions who are currently booked full for 2023 meaning the only way to get a breeding to them is through the auction.
The auction can be found at tqhastallionauction.com and then clicking on the "Click For Race Horse Auction" in the upper left hand corner.
Don't forget that winning bidders are responsible for any booking/farm/chute fees that may be required.
To see if the stallion you wish to bid on has any of those fees just click on the stallion's picture or name and it will take you to a page that lists that information and will show you if there are any of those fees as well as any other special conditions.
Also note that if you are the winning bidder and wish to pay by check you need to contact the TQHA at 512-458-5202 or email Scott Sherwood, TQHA Director of Racing, at ssherwood@tqha.com and let him know that you are going to be paying by check.
Anothernote that there was an issue with the information we received for the stallion Open Me A Corona that has been corrected. His 2023 stud fee is $2,000 and the minimum bid is $1,000 with a $500 farm fee. The corrected information is now listed on the auction site.
If anyone has any questions please contact Scott Sherwood. "Good luck with your bidding and 2e appreciates your participation," Sherwood said.