RACING THIS WEEK
FEATURES
SERVICES
Champion Moonist returns, under jockey Cesar DeAlba, after winning the 2016 Los Alamitos Winter Championship(G1).

© Scott Martinez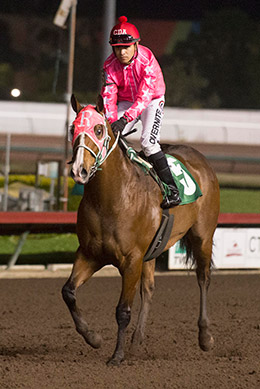 Quarter Horse Racing Loses A Great One In Moonist
LOS ALAMITOS, CA—JUNE 22, 2016—
"He is a dandy," John Cooper would often say following a win by his great trainee, Moonist.
On Wednesday morning, one day after the multiple AQHA Champion Moonist was euthanized on Tuesday evening after complications from colic, both Cooper and owner Ron Hartley talked about the great, four-time champion.
"I'd like to thank everyone for the love and appreciation they've shown for Moonist," Hartley said. "My grandson was telling me about all the messages he was getting and seeing on social media about Moonist and it's quite overwhelming and touching to see how much this horse was liked and enjoyed by so many people. Moonist has been a member of our family and loved by so many in the horse racing family as well. Bonnie Vessels, who bred Moonist, was one of the first call me this morning after she heard the news. We've heard from so many people from all over the country. It's been touching. There'll never be another one like him for me. He's one in two million."
"I'll remember the good times, and (Moonist) gave us a lot of those," Cooper added. "It'll be hard to look at that stall without him."
Cooper, however, was "still in shock" at losing the "dandy" Moonist.
"It's unbelievable," he said. "He had never been sick before. He wasn't feeling himself and we didn't know for sure what was bothering. We treated him at the barn, but it didn't help so we took him to the clinic."
Cooper explained that Moonist's conditioned worsened by the hour. Veterinarians performed emergency surgery and found bleeding in his organs.
Steve Andersen of Daily Racing Form spoke to Cooper on Wednesday morning and wrote: "At that point Moonist had suffered internal damage and could not be saved, Cooper said."
"It hit me like a rock," said Hartley. "He wasn't doing well and we didn't want him to suffer."
Bred by Vessels Stallion Farm, the 5-year-old Moonist was named the champion aged gelding and overall champion aged horse in 2015 and 3-year-old and champion 3-year-old gelding in 2014. He won 24 of 34 career starts and earned $878,468 while making everyone one of his starts at Los Alamitos Race Course. Sired by Separatist and out of the great broodmare Your First Moon, Moonist is one of only eight Quarter Horse to reach 12 stakes victories at Los Alamitos.
He would have been the heavy favorite to add to his stakes win total when he headlined a field to the Grade 1 Vessels Maturity on Sunday, July 3. His final stakes win came on February 15 when he outdueled World Champion Heza Dasha Fire in the Grade 1 Los Alamitos Winter Championship in one of the most exciting races in the history of Los Alamitos Race Course.
Moonist became the first horse to win four derbies in a single year at Los Alamitos in 2014 when scoring in the El Primero Del Ano Derby, Governor's Cup Derby, Golden State Derby, and Southern California Derby. He also ran in the Los Alamitos Winter Derby and qualified to the Southern California Derby. As a 4-year-old last year, Moonist won five races including the Grade 1 Go Man Go Handicap, Grade 1 Robert L. Boniface Los Alamitos Invitational Championship, and the Restricted Grade 1 Robert L. Boniface California Breeders Championship Handicap. He ran second to Heza Dasha Fire in the Grade 1 Champion of Champions.
"It'll be tough to walk by his stall," Cooper said. "He was in that same stall for (about) five years and he loved that stall. He loved being at the racetrack. He loved life at the track. I talked to Ron Hartley at 11:30 p.m. (on Tuesday night) and it was tough. It's very tough. Sometimes you need a little bit of time before you can say anything. I think of Moonist as the John Henry of Quarter Horse racing. That's how I see him. He'll be missed."
Hartley added: "We would go to the track and so many people would come up to us and ask us about Moonist. After his races, we'd have so many people coming by to tell us how much they loved Moonist. They all seemed to know him. At home people would call us to talk about Moonist from all over the nation. They would say 'I'm going to mark my calendar so I can watch Moonist on TVG.' It's overwhelming to know that so many people thought so kindly and so much about this horse. John Cooper took such excellent care of this horse. Moonist is the greatest thing that ever happened to me in racing. I'll always remember the sight of Moonist walking towards us in the winner's circle after a race. He was amazing."
* * * * * * * * * * * * * * * * * * * *
Here's a selection of tweets this morning on Twitter on Moonist's passing:
Ed Burgart‏@qheddie Condolences to connections of champion Moonist, euthanized last night due to complications from colic. AQHA Racing ‏@AQHARacing 18m18 minutes ago AQHA Racing Retweeted Ed Burgart Heartbreaking.
TVG @TVG2h2 hours ago What a career... Condolences to all on the passing of Moonist... #Champion
Britney Eurton @BritneyEurton 3h3 hours ago Heartbreaking news
Peter Berry @peterberry57 2h2 hours ago Peter Berry Retweeted Ed Burgart A true legend and so much fun to watch. Rest in Peace.
José A Contreras @LosPonies 2h2 hours ago Hard to put it into words what losing Moonist compares to in the Thoroughbred world. It truly is devastating news to the QH world.
Teresa Del @horseychickstar 2h2 hours ago I'm so sorry to hear about moonist @cdajock 😥my heart goes out to you & his connections ...what a fan favorite he was.

From Facebook:

Chris Wade: We lost a warrior, a workhorse. Moonist was the people's Champion who danced all the dances and always gave his all. His Heart was as big as the track and now mine's broken. Rest in Peace big fella, we'll never forget you.
Bonnie Vessels: One of the best. So thankful you two (Ron and Jeryl) owned him, and that John trained him and let him be the Champ he was❤️😢