RACING THIS WEEK
FEATURES
SERVICES
Heritage Place will kick off their 41st annual Winter Mixed Sale on Thursday in Oklahoma City.

© Amanda Glidden / Plugged In Marketing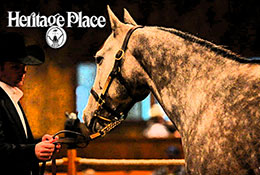 Pre-Sale Party Kicks Off 41st Annual Heritage Place Winter Mixed Sale Activities Wednesday
OKLAHOMA CITY, OK—JANUARY 13, 2020—
Heritage Place Sale Company will kick-off their 2020 sales season with their annual pre-sale party and hosting of the 2019 AQHA Racing Champions ceremony on Wednesday (Jan 15) evening at their facility in Oklahoma City.
Everyone is welcome to attend the annual pre-sale party to kick-off at 5:00 p.m. (CST) in the barn area, live music, food and drinks will be provided. The 2019 AQHA Racing Champions announcement ceremony (see related story) will get underway at 6:00 p.m. (CST) in the sale company auditorium.
The 41st annual Winter Mixed Sale will feature 829 head of broodmares, short yearlings, stallions and horses of racing age.
"We are very excited about the offering in this sale, the catalog is stacked with black type and quality from start to finish. I believe everyone will find something in this sale," Heritage Place General Manager Spence Kidney said.
Horses will be available for viewing on Wednesday.
The opening session of the will begin promptly at 10 a.m. Thursday (Jan. 16) featuring Hips 1 thru 276.
At the beginning of Session One on Thursday a rare opportunity to purchase original Orren Mixer Artwork from the private collection of the Mickle Family will be sold (CLICK HERE for more information). Included in the offering are Mixer originals of Bar H Leo, Vanny Bar, Charlie Mickle atop Vanny Bar and Rebel Cause.
Friday's second session will get underway at 10:00 a.m. and will feature Hips 277 thru 551. At the beginning of session two, breeding to champions Jess Good Candy and Kvn Corona will be sold to benefit the Sam Thompson Foundation.
Immediately following session two on Friday evening OQHRA will host a reception in the Heritage Place restaurant & club. Entertainment in the bar will feature Steve Crossley.
Day 3 (Saturday) will begin at promptly at 10:00 a.m. (CST) with Hips 552 thru 829.
The Winter Mixed catalog is available for download at the Heritage Place website CLICKING HERE.
The Winter Mixed catalog is also available for download through RGP Catalog App. Search for RGP Catalog App on iTunes or Google Play.
For additional information contact Heritage Place Sale Company at 405.682.4551.
Preliminary sales results can be found in the Auction Leaders section on StallioneSearch.com following each day's session.