RACING THIS WEEK
FEATURES
SERVICES
Beach Treat as named the Indiana-Bred Quarter Horse of the Year during the IQHRA SSA Auction and Awards Banquet on January 4.

© Coady Photography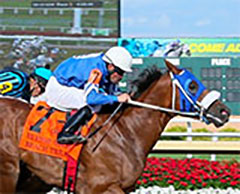 Beach Treat Named Indiana-Bred Quarter Horse Of The Year At Indiana Banquet
SHELBYVILLE, IN—JANUARY 13, 2020—
The 2019 racing season in Indiana was highlighted by growth and a powerhouse gelding named Beach Treat. On January 4, the Indiana Quarter Horse Breed Development Program (IQHBDP) and the Quarter Horse Racing Association of Indiana (QHRAI) honored Beach Treat and other top Indiana-bred Quarter Horses at the annual Quarter Horse racing year-end awards banquet.
The son of Indiana's leading sire Escondido Beach, Beach Treat brought home the most accolades after being named the Indiana-bred Horse of the Year, Aged Indiana-bred Champion, QHRAI Champion Aged Gelding and QHRAI Champion Aged Horse.
Owned and trained by Ron Brown and bred by Coronet Farm, Beach Treat had a stellar year with nine starts, six wins and one second, ending the year with $174,469 in earnings in 2019 alone. Racing exclusively at Indiana Grand Racing and Casino in Shelbyville, the gelding won the Indiana Championship Stakes, Hoosier Park Classic Stakes and the Bob Woodard Memorial Classic Final. He was also a finalist for the Born Runner Classic and earned more than $45,000 in Indiana Quarter Horse Breed Development Program awards for the year.
"He's such an easy horse to keep," Brown said after his win in the Hoosier Park Classic in October. "He stays happy all the time. He stays (at Indiana Grand) full time and I have a round pen outside my barn full of sand. He loves to go out in the pen and roll—that keeps him happy."
The banner night was capped by the announcement that Beach Treat is a finalist for the American Quarter Horse Association aged champion gelding award, to be announced January 15 at Heritage Place in Oklahoma City.
"That was pretty surprising," says Brown.
"It was a lot of fun watching Beach Treat, and all of the Indiana Quarter Horses, race last year," says Jessica Barnes, Director of Racing and Breed Development for the Indiana Horse Racing Commission. "This is the third year in a row that an Indiana-bred has been named a finalist for the AQHA racing awards, so you can see the quality of our stock is rising. We'll be keeping our fingers crossed for Beach Treat and the Ron Brown Stable later this week."
Prior to the banquet, the QHRAI's held their annual stallion service auction featuring 95 total stallions. The auction brought in a total of $64,000 with 45 stallions sold that night. Apollitical Blood was the highest selling stallion at $4,800 for the 2020 breeding season. Three leading Indiana stallions Escondido Beach, On The Wagon and Jess Zoomin sold for a total of $3,625. The remaining stallions are listed on QHRAI's website, or you can contact Teresa Myers at mtjmyers@yahoo.com.
"We had a great turnout for both the Stallion Service Auction and the awards banquet," says Dianne Bennett, Executive Director for QHRAI. "Everyone is enthusiastic for the upcoming 2020 race season here at Indiana Grand."
Two Indiana Quarter Horse racing advocates were inducted into QHRAI's Hall of Fame that same night. Retired State Representative and former Quarter Horse owner Ron Herrell was inducted for his help in spearheading the growth of Quarter Horse racing in Indiana. Herrell shared his story how he was asked to help increase racing from three races in 1998 to 106 races in 2019, including six dedicated all Quarter Horse race days at the Shelbyville track.
Pistolpacking Pepsi, once named Indiana's Quarter Horse of the Year, was also inducted into the Hall of Fame. Bred by Diana Keiser, owned by Robert Ray and trained by co-owner Ron Brown, the Jesse James Jr gelding retired in 2017 with total earnings of $451,703, putting him in the top five all-time leading Quarter Horses in the state of Indiana. In all, Pistolpacking Pepsi won 12 races in 38 starts with an additional 12 finishes in the top three.
Other winners crowned by the breed development program that night included: Louisiana Lover (2-Year-Old Colt/Gelding Indiana-Bred Champion), Shakeitonthebeach (2-Year-Old Filly Indiana-Bred Champion), Above The Brimm (3-Year-Old Colt/Gelding Indiana-Bred Champion), Cause For Corona (3-Year-Old Filly Indiana-Bred Champion) and Beach Mercedes (Aged Mare Indiana-Bred Champion).
Escondido Beach, owned by Sheri Miller & Bobby Cox, took home Sire of the Year, with his offspring earning more than $250,000 in Stallion Owner Awards in 2019. Miller earned $27,856 in Breeder's Awards in route to a repeat as the 2019 Breeder of the Year. Jesse's Candy, owned by Finlinson Racing Stables, was voted as Broodmare of the Year thanks to her offspring earning $84,513 in 2019.
"There's so much buzz when you talk about Indiana horse racing in 2020, thanks to the implementation of table games at our two racetracks," says Barnes. "While 2019 was a fun year, we know that this year and the coming years will see even more growth in incentives and purses. We're anticipating big things to come."
* * * * * * *
AQHA News and information is a service of the American Quarter Horse Association. For more news and information, follow @AQHA Racing on Twitter, "like" Q-Racing on Facebook, and visit aqha.com/racing.