RACING THIS WEEK
FEATURES
SERVICES
The IHRC unanimously approved Indiana Grandís modified request for race dates in 2020 with the 90-day season kicking off Monday, June 15th and running through, Wednesday, November 18th.

© Coady Photography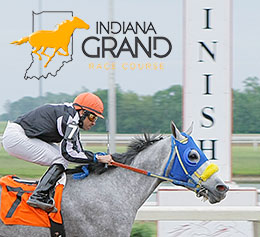 Indiana Grand Announces Revised 2020 Racing Dates
SHELBYVILLE, INóMAY 28, 2020ó
The Indiana Horse Racing Commission unanimously approved Indiana Grandís modified request for race dates in 2020.
The 94-day season will begin on Monday, June 15th and finish on Wednesday, November 18th on a Monday through Thursday basis with four select Saturdays of Quarter Horse-only racing over the span of the meet.
Also approved as a part of the agenda was a request by Indiana Grand and the Indiana horsemenís groups to offer what is believed to be the lowest takeout on any wager in North America. The request asking for the Pick 5 to be offered at a takeout of 11.99% was also approved unanimously and will take place on the last five thoroughbred races each day. The Pick 5 will be a straight carryover wager without a unique ticket provision.
"We've said for the last month that the 2020 calendar might need to be fluid and after consultation with our horsemen weíre happy to be approved for this 94-day meet." said Eric Halstrom, Vice President and General Manager of Racing. "When you consider that our business will have been shut down for nearly three months itís very rewarding to offer overnight purses that are consistent or higher than 2019 and a quality stakes calendar for both breeds."
The revised calendar will be published online at www.IndianaGrand.com shortly. Horsemen are encouraged to contact Kevin Greely at (317) 421-3080 for more information or with questions on any racing office matters.
* * * * * * * * * * * * * * * * * * *
About Indiana Grand Racing & Casino: Indiana Grand Racing & Casino holds multiple awards from industry publications for customer service, entertainment, gaming and dining. Located in Shelbyville, Ind., Indiana Grand features 2,200 of the latest slots and electronic table games in addition to a one-mile dirt race course and a seven-eighths mile turf course offering live Thoroughbred and Quarter Horse racing each year. Simulcast wagering is also offered year-round at Winner's Circle Brewpub & OTB located on the casino floor as well as an off-track betting facility located in Clarksville, Ind. For more information, please visit
www.IndianaGrand.com
.