RACING THIS WEEK
FEATURES
SERVICES
Beginning with the racing program on Saturday (Jan. 15) every Quarter Horse at Los Alamitos Race Course will earn at least $500 when they start in an overnight race.

© Scott Martinez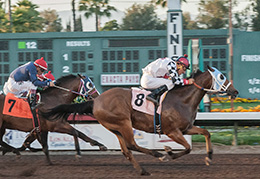 Los Alamitos Increases Guaranteed Participation Purses To $500 For Quarter Horse Starters
LOS ALAMITOS, CA—JANUARY 14, 2022—
Beginning with the racing program for Saturday, January 15, every Quarter Horse at Los Alamitos Race Course will earn at least $500 when starting in any straightaway overnight race.
This represents a raise of 67% from the previous guaranteed participation purse of $300 per start.
This increase is being done to offset the rising costs in the workers' compensation insurance per-start, while also providing racehorse owners with additional funds to cover the general costs involved with racing.
The guaranteed participation purses are paid to owners when their horses finish sixth and beyond in any straightaway overnight Quarter Horse race (i.e. non stakes, handicap or stakes trial race). A horse will also receive the new guaranteed participation purse if their share of the purse for running fifth is less than $500. Purses for horses finishing fourth or higher are not affected in any way by this change.
Furthermore, one Quarter Horse race for horses at the $6,250 claiming level or below will be selected each entry day to receive an additional purse bonus of $2,000. The entire $2,000 bonus amount will be awarded to the winning horse of the race. The "bonus" race will be announced by the Los Alamitos Racing Office and new races could be added to the condition book as a result. Track officials are hopeful that these increases may stimulate activity in the entry box for owners and trainers participating at Los Alamitos.
The increase in the guaranteed participation purse and the "bonus race" are the most recent adjustments in prize money to benefit owners involved with horse racing at the Orange County track. Los Alamitos management, in association with the Pacific Coast Quarter Horse Racing Association, is continuing to explore ways to create more lucrative racing opportunities for horses at all racing levels.
Already for 2022, Los Alamitos has added 12 new stakes races for Quarter Horse fillies and mares, including a new $100,000 race. In 2021, Los Alamitos added a Claiming Futurity, which was well received by owners and trainers, and created a racing series for horses competing at the 1,000-yard distance culminating with a big night with purse money of $110,000 up for grabs for the top 30 horses. This series has been expanded for 2022.
The Champion of Champions, the track's marquee race, has also seen its purse increased from $600,000 to $750,000 for this year. And even going back to 2020, the inaugural Los Alamitos Oaks for 3-year-old Quarter Horse fillies was held and it featured the track's richest purse ever for this racing division.
Los Alamitos Race Course is currently racing on Saturday and Sunday nights. To contact the Los Alamitos Racing Office for more information on the $2,000 bonus races please call 714-820-2788.
* * * * * * * * * * * * * *
For more info, please contact larace@losalamitos.com. Follow us on Twitter or Instagram at @losalracing or visit us online at www.losalamitos.com.