RACING THIS WEEK
FEATURES
SERVICES
Texas Racing Commission has temporarily suspended the practice of hair-testing on all racehorses effective January 13, 2022.

© StallioneSearch / Greg Thompson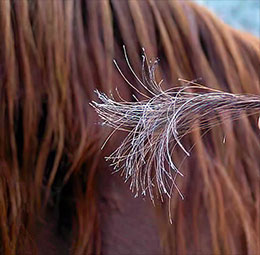 Texas Racing Commission Halts Hair Testing
by Greg Thompson, StallioneSearch.com
AUSTIN, TX—JANUARY 14, 2022—On Thursday (Jan 13), the Texas Racing commission put out a one-page notice on their website and on social media with the notice that they will be temporarily suspending the practice of hair-testing on all racehorses effective January 13, 2022.
According to an email sent to StallioneSearch.com from Deputy Executive Director Jim Blodgett, the new Executive Director Amy Cook has been in meetings with key stakeholders to understand the concerns surrounding the practice of hair testing in Texas racing.
The decision from the Texas Racing Commission to temporarily suspend hair testing in Texas was in response to the concerns raised by Texas Horsemen's Partnership about the implementation of the policy, and not because of the testing procedure.
Specifically, Texas Horsemen's Partnership objected to the commission's implementation of the hair testing procedure in May of 2021, stating that the implementation did not provide adequate notice and transparent procedures to the participants in Texas horse racing. The Texas Racing Commission determined that the current policy did not further the mission of the commission, which is to ensure fairness, safety, and the integrity of horse racing in Texas.
The temporary suspension of hair testing is in effect until the Texas Racing Commission can call a meeting of the Safety and Health Committee, which according to the email was in the process of being scheduled.
The purpose of the upcoming meeting is to provide an opportunity to build consensus with all stakeholder in Texas horse racing on the implementation of hair testing in Texas in a meaningful and appropriate way.
According to Executive Director Amy Cook, the Texas Racing Commission has a new 'vision statement' that will guide the direction of the state agency moving forward. That new vision statement is the Texas Racing Commission will be the best state agency in Texas, and the most professional racing commission in America.
No timeline was given to determine the re-implementation of hair testing at time of press.