RACING THIS WEEK
FEATURES
SERVICES
Remington Park announced that all horses entering the grounds for the upcoming Quarter Horse, Paint and Appaloosas Meet will be required to have a certificate of a negative blood test for Equine Piroplasmosis effective immediately.

© Bee Silva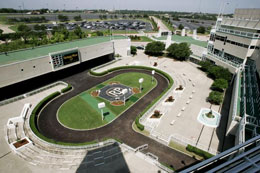 Remington Park Requiring A Negative Piro For Upcoming QH Meet
by Greg Thompson, StallioneSearch.com
OKLAHOMA CITY, OKóJANUARY 17, 2022óRacing officials for the upcoming 2022 Quarter Horse race meet at Remington Park in Oklahoma City, Oklahoma have announced that Quarter Horse, Paint and Appaloosas entering the grounds for the upcoming meet will be required to have a certificate of a negative blood test for Equine Piroplasmosis effective immediately.
Horses for the premiere-racing meet in the Quarter Horse racing industry are set to be moving onto the backside of the Oklahoma City racecourse beginning on January 31, 2022 to prepare for the race meet Thursday, March 3, continuing for 50 dates through May 28.
The upcoming meet will feature 14-Grade 1 races for Quarter Horse, Paints and Appaloosas, headlined by the running of the $1-million Heritage Place Futurity(G1).
Equine Piroplasmosis (EP) is a tick-borne disease caused by two-protozoan parasites: Theileria equi or Babesia caballi. The disease can be transmitted through ticks or contaminated blood, and cause a multitude of illness from fever, anemia, swelling of the limbs, swelling of the abdomen, shortness of breathing, etc. The danger of a widespread endemic of the disease is the fact that most horses that test positive for Equine Piroplasmosis (EP) will not show any signs of having the disease.
Further information about the requirements for horses entering the grounds at Remington Park in Oklahoma City, Oklahoma, can be found in the 'horsemen' section of remingtonpark.com or by contacting the Racing Office at (405)425-3271.