RACING THIS WEEK
FEATURES
SERVICES
Funeral services will held Saturday in in Lemmon, South Dakota for John G. Jonson.

© Courtesy the Evanson Jensen Funeral Home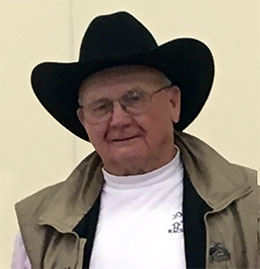 Funeral Services Set Saturday for South Dakota Horseman John G. Johnson
LEMMON, SD—JANUARY 19, 2022—
Longtime horseman John G. Johnson, age 90, of Shadehill, SD, passed away at the West River Regional Medical Center in Hettinger, ND.
John has been involved in Quarter Horse racing since the 80's and is the father of longtime trainer Bob Johnson.
Funeral services for John will be held at 11:00 a.m. (MST) on Saturday, January 22, 2022 at the Calvary Lutheran Church in Lemmon, SD, with Pastor Tera Kossow officiating. Burial will follow at 2:00 p.m. on Saturday at the Rosebud Lutheran Cemetery south of White Butte, SD.
The funeral service for John will be livestreamed and a link will be made available the day of the service. The Funeral can be viewed by clicking the link at the top of his obituary page on the Evanson Jensen Funeral Home website the day of the funeral (Jan. 22). "Click Here to View the Funeral for John".
Visitation will be from 1:00 p.m. to 7:00 p.m. on Friday, January 21, 2022 at the Evanson Jensen Funeral Home in Lemmon.
John is survived by his wife, Shirley, Lemmon, SD; sons, Gary (Jodi) Johnson and Bob (Shilo) Johnson, all of Lemmon, SD, and Mike (Linda) Johnson, Hettinger, ND; eight grandchildren; two great-grandchildren; one sister, Martina Ham, Lemmon, SD; and numerous nieces, nephews and friends.
He was preceded in death by his parents; two brothers, Oscar and Andrew; and four sisters, Muriel Seidel, Hilma Randen, Alice Kettleson and Anna Isdal.