RACING THIS WEEK
FEATURES
SERVICES
Oklahoma City racetrack opens for training January 31, meet opens March 3.

© Remington Park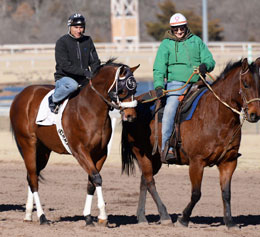 Remington Park Opens For Training January 31, Meet Opens March 3
OKLAHOMA CITY, OK—JANUARY 19, 2022—
Remington Park is preparing to open its spring meet, which kicks off March 3 and runs through May 28.
Stall setup begins January 28, and horses are welcome on January 31, and training begins February 1.
Entries for the first day of schooling races are January 28, with the schooling races running February 2.
All horses coming into the Remington Park stable area must have a current health certificate and a current piroplasmosis test issued within 30 days prior to arrival at the track, which shows they've been vaccinated with an FDA-approved modified live or killed virus vaccine for EHV-1, not less than 14 days, and not more than 90 days, prior to the date of entry into the stable gate.
The veterinarian issuing the health certificate must provide the date of the EVH-1 vaccination, brand, serial number, expiration date of vaccine and temperature for each horse. Current (within the last 12 months) negative Equine Infectious Anemia test information (date and accession number) must be listed for each horse on the certificate.
The health certificate must contain a statement by the issuing veterinarian that they have physically examined each horse listed on the certificate within five (5) days of shipment date, and the horses do not exhibit any clinical signs of EVH-1 and/or Vesicular Stomatitis, and the veterinarian has verified with the owner/trainer that the horses have not been exposed to a suspected EVH-1 or Vesicular Stomatitis positive horse or premise within the last 15 days.
For more information, visit Remington Park's horsemen page.
* * * * * * * * * * * * * *
Tracked by more than 167,000 fans on Facebook and 10,600 Twitter followers, Remington Park has provided more than $285 Million to the State of Oklahoma general education fund since the opening of the casino in 2005. Located at the junction of Interstates 35 & 44, in the heart of the Oklahoma City Adventure District, Remington Park begins the 2022 American Quarter Horse, Paint and Appaloosa racing season on March 3. Simulcast horse racing featured daily, the casino is always open. Visit remingtonpark.com for more information.