RACING THIS WEEK
FEATURES
SERVICES
A sustaining payment for the 2022 West Texas Futurity(G2) is due Tuesday, February 1, 2022.

© Coady Photography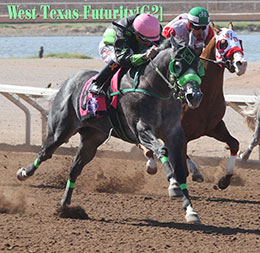 Grade 2 West Texas Futurity Sustaining Payment Due February 1
SUNLAND PARK, NM—JANUARY 23, 2022—
A $500 sustaining payment for the $100,000 added Grade 2 West Texas Futurity is due Tuesday, February 1, 2002.
For Quarter Horse foals of 2020, the 62nd running of the West Texas Futurity will contest trials on Friday, March 11th. The 10 fastest qualifiers will return to Sunland Park to compete in the 300 yard final on April 3, 2022.
The remaining 2022 West Texas Futurity Payment Schedule :
$500 on or before February 1, 2022
$550 to enter trials (refer to Sunland Park 2022 condition book for date)
Supplemental Payment of $10,000 at time of entry to trials (includes all fees).
Non-qualifiers from the March 11th trials will be preferred eligible(s) by trial time(s) for the $50,000-Guaranteed West Texas Juvenile stakes.
CLICK HERE to download the 2022 West Texas Futurity(G2) Nomination form.
Make checks payable to:
West Texas Futurity
Nominations Secretary
Sunland Park Racetrack & Casino
1200 Futurity Drive
Sunland Park, NM 88063
* * * * * * * * *
For additional information call 575-874-5200.