RACING THIS WEEK
FEATURES
SERVICES
The Oklahoma Quarter Horse Racing Association and Remington Park are set to implement fourth year of hair testing requirement for Quarter Horse, Paint and Appaloosas.

© OQHRA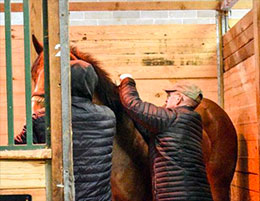 OQHRA And Remington Park Set For Fourth Year Of Hair Testing Requirement
By Krissy Bamberg,
OQHRA Executive Director
OKLAHOMA CITY, OK—JANUARY 24, 2021—It remains the goal of Remington Park and OQHRA to provide a race meet of the highest quality and free of any horse racing practices that are corrupt, dishonest, or unprincipled.
Requiring every horse to provide a negative hair test prior to entry not only gives confidence to every owner and fan that the track and horsemen are making every effort to ensure horses are not competing unfairly with an advantage from prohibited substances, but it also protects the welfare of the equine athletes.
The program has proven to be successful. In the previous four years, over 11,000 tests have been collected as a pre-entry requirement. Excluding horses that have been administered a prohibited substance from racing at Remington Park means they are not competing with an unfair advantage; they are not putting the lives of riders at risk, and they are not winning purse money unfairly.
The post-race positives in blood and urine have fallen from thirty-three (33) Class 1 violations at Remington Park in 2017 to only one (1) Class 1 violation in 2021. While hair testing is a great tool, it works best in conjunction with a robust post-race and out of competition testing program. We believe that Oklahoma remains a leader in racing integrity.
Remington Park, OQHRA and participating horsemen have been at the forefront of integrity efforts investing over $3 million in hair testing and out of competition testing to ensure the safety of the horse and fairness for bettors in Oklahoma.
Nearly $60,000,000 in purse money has been paid during this time. Stopping horses with an unfair advantage prior to racing means that purse money is awarded to rightful recipients without delays and possible lengthy litigation.
As we move forward, we realize that we must continue to identify substances that are being abused as well as continue to evolve the testing mechanism so that we can better detect prohibited substances. In working with industry leaders in Oklahoma and other states we are very encouraged that Industrial Laboratories can now identify additional prohibited substances in hair. These drugs are and have been prohibited substances for several years.
One substance that has emerged as an abused prohibited substance is Ephedrine. We have seen an alarming increase in horses with heart issues and began studying heart rates in horses' pre-race and post-race, which revealed a major welfare issue. Ephedrine is a prohibited substance that has no therapeutic value, is not FDA approved and should not be used.
In 2022, we will be enforcing positive hair samples on any drug that is prohibited and detected in hair. Industrial has been instrumental in testing and researching new and existing prohibited substances and we appreciate their cooperation to continue to find ways to protect the integrity of the industry and the welfare of the horse.
Remington Park and OQHRA will continue to work with the horsemen, industry leaders and testing laboratories to raise the standard and that "what we already know" is not good enough. The people that continue to find new ways to cheat the system must also know that the resolve for the fairness and safety of our sport will not rest.
For more information on the hair testing requirements or to schedule your horse for testing please CLICK HERE or call (405) 881-5120.