RACING THIS WEEK
FEATURES
SERVICES
The Late Hall of Fame Jockey Randy Romero to be honored at July 2 Jockey and Jeans Event in Louisville, Kentucky.

© Courtesy Jockey and Jeans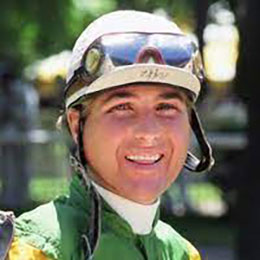 The Late Hall of Fame Jockey Randy Romero to be Honored at Jockey and Jeans Event
LOUISVILLE, KY–JUNE 24, 2022–The eight annual fundraiser for the Permanently Disabled Jockeys Fund is set for July 2 at Churchill Downs and late Hall of Fame Jockey Randy Romero will be honored.
Romero, elected to racing's Hall of Fame in 2010, died of stomach cancer in 2019. He rode two Hall of Fame fillies and mares, Go For Wand and Personal Ensign. The latter won the 1988 Breeders Cup Distaff at Churchill Downs, getting up in the closing stride to beat the Kentucky Derby winning filly Winning Colors and retire with a perfect record of 13 victories
Gary Stevens, who won the 1988 Kentucky Derby aboard Winning Colors and was aboard the gray mare in that race, will co host the event along with fellow Hall of Famer Sandy Hawley, a Jockeys and Jeans committee member. The group was founded in late 2014 by five former riders who have thus far raised over $2 million for the Permanently Disabled Jockeys Fund, which makes monthly payments of $1,000 to some 60 former jockeys who suffered career ending injuries.
Stevens and Hawley will be joined at the event by at least dozen other Hall of Fame Jockeys and two of five living Triple Crown race winners Steve Cauthen and Jean Cruguet. Among the former jockeys scheduled to attend are 11 who have won a total 16 Kentucky Derbies. Several Hall of Fame trainers are expected. All will be there to honor seven permanently disabled former jockeys as well as Romero.
Romero will be represented by his son, Randy Romero, Jr. Successful Louisiana Jockey, and long-time friend Shane Sellers, who will provide remarks on Romero known as "The Ragin' Cajun." Sellers and Romero were two of the three Louisiana jockeys featured in the 2004 HBO Documentary "Jockey," which depicts the life of those who must weigh less than 115 pounds to race 1,100 lb. horses.
From tiny Erath, Louisiana, Romero grew up riding unsanctioned match races and began racing at recognized tracks when he became the legal age of 16. In 1975, he rode the family-owned Quarter Horse Rocket's Magic to a third-place finish in the All American Futurity after a disputed poor start. The horse inspired the 1978 movie, "Casey's Shadow" starring Walther Matthau.
In a 26-year career, he won 4,294 races from 26,091 mounts, including 342 stakes. His mounts earned over $75 million. He topped the standing at 10 separate tracks, including Churchill Downs. At Keeneland, Romero once won five races in succession and six on one card, and at Gulfstream Park he won four stakes on a single program.
Romero was an enigma; as famous for winning stakes races aboard fillies as returning to the saddle after injuries. He estimated he broke 25 bones and underwent at least 20 surgeries. He was burned over 60% of his body in a bizarre reducing facility fire at Oaklawn Park Racetrack Park in 1983. It left him with one arm shorter than the other and doctors telling him he would never race again. Yet, he returned to racing months later and won with his first mount at Louisiana Downs.
"He had a tolerance for pain higher than Mount Everest and his love for the sport was north of that," said fellow Hall of Fame rider Pat Day, who will attend the event. "He would do whatever it took to participate."
A tainted blood transfusion during his recovery from the burns reportedly resulted in his developing Hepatitis C, and later losing a kidney. He retired in 1999 to become a jockey agent until he became too ill. For over 15 years he underwent Dialysis three times weekly. Romero, like many jockeys regurgitated several times daily to make weight, something he said contributed to his developing stomach cancer in 2015. The disease made him ineligible for a long-awaited liver transplant he believed would save his life. He entered hospice care in June, 2019 and on August 28 died in Lafayette, LA near midnight with his family around him. He was 61.
The event on the spring meeting's closing day when the Grade II Stephen Foster Stakes is run begins at 11:30 a.m. in the track's Triple Crown Room, with tickets $75 on sale on Ticketmaster at https://www.ticketmaster.com/event/16005B5CAD1637A6?did=jockey and can be accessed at www.jockeysandeans.com and on the track's website.
Noted Keeneland Sales Auctioneer Ryan Mahon will handle the auction of a host of rare racing memorabilia and there will a silent auction. The riders, including those permanently disabled, will sign special autographed posters and other memorabilia brought by fans at a special signing in the grandstand.
If you have questions contact Barry Pearl, jockeysandjeans@gmail.com, (717) 503-0182 or Eddie Donnally Edjockeysandjeans@gmail.com (818) 653-3711