RACING THIS WEEK
FEATURES
SERVICES
AQHA Hall of Fame and Ruidoso Racehorse Hall of Fame jockey Danny Cardoza talks with StallioneSearch.com's Greg Thompson on this edition of QH Racing Talk.

© Ginny Harding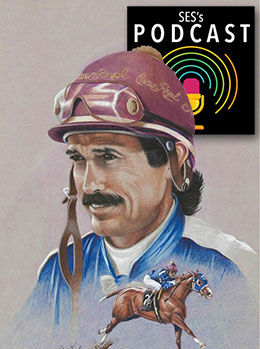 QH Racing Talk Podcast: Episode 25 - Hall of Fame Jockey Danny Cardoza (AUDIO
DALLAS, TX—JUNE 25, 2022— StallioneSearch produced episode 25 of the QH Racing Talk Podcast today, that features an interview with AQHA Hall of Fame and Ruidoso Racehorse Hall of Fame jockey Danny Cardoza about his stellar race-riding career that spanned 26-years in his home state of California.
The host of the show, Greg Thompson of StallioneSearch.com and Cardoza discussed the era, known as the heyday of Quarter Horse racing in California, in which the All American Futurity(G1) winning rider battled on a nightly basis with multiple AQHA Hall of Fame jockeys in the same jocks room.
Cardoza elaborates for the listening audience what it was like to compete with jockeys like Bobby Adair, Kenny Hart, Ralph Pauline, James Lackey, Jerry Nicodemus, and a slew of other legendary Quarter Horse race-riders, as well as to ride for some of the biggest named trainers in the sports history.
CLICK HERE and then click the "green arrow button" at mid-page to listen to episode 25 of Quarter Horse Racing Talk.
Also available on StallioneSearch.com's Podcast Network are any previous shows you may have missed. QH Racing Talk podcasts also can be found on StallioneSearch's Facebook page, Twitter, iTunes, and Spotify.
Hosted by Greg Thompson of StallioneSearch.com, "QH Racing Talk's" format is designed to include special guests of industry significance to participate in discussions of various Quarter Horse Racing related topics.
* * * * * * * * * * * * * * * * * *
The second-crop sire Power Jam, the stallions of Cavenaugh Quarter Horses, the stallions of Robicheaux Ranch, Inc., new sire for 2022 Eagles Fly Higher, Justin Powell Racing Stables and Lip Chip, LLC are "QH Racing Talk" podcast sponsors for 2022.