RACING THIS WEEK
FEATURES
SERVICES
The Sam Thompson Memorial Foundation Margaritaville Golf Tournament will be held Thursday, July 7 at The Links at Sierra Blanca.

© Sam Thompson Memorial Foundation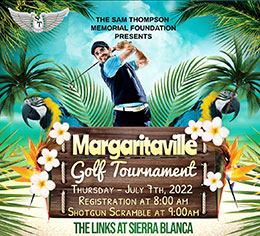 Sam Thompson Memorial Foundationís Margaritaville Golf Tournament Set July 7
RUIDOSO DOWNS, NM–JUNE 26, 2022–Are you planning on being in Ruidoso for the Rainbow trials in July?

If so make sure to sign up for their Margaritaville Golf tournament on July 7th at the Links at Sierra Blanca.
The Rainbow QH Futurity(G1) trials are scheduled for July 8 and 9 at Ruidoso Downs and the Rainbow QH Derby(G1) and Rainbow Oaks trials will be contested July 10.
The Sam Thompson Memorial Foundation has some amazing sponsors that are helping to make this tournament something you don't want to miss. Grab your tropical attire (there is a prize for the best dressed!) and your golf clubs and meet everyone there to tee off at 9 am (MDT).
All the money raised goes to help those in need in our horse racing community.
Since the foundation was formed, they have provided over $115,000 in financial assistance to those in need and over $340,000 in scholarships to those in our horse racing family.
You can register or become a sponsor at www.samthompsonfoundation.org.
For questions contact Laura Joiner at 760.408.1199.