RACING THIS WEEK
FEATURES
SERVICES
"Racing at the Rock" documentarians Michael (left) and David Hansen (right), in the stands at Sweetwater Downs, will tell the story of the rough-and-tumble life of horse racing in Rock Springs.

© Gene WIlson & Associates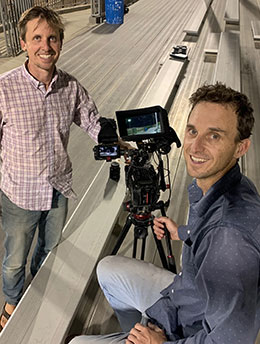 Horse Racing Docuseries Films at Sweetwater Downs
ROCK SPRINGS, WY–SEPTEMBER 9, 2022–A docuseries currently being filmed at Sweetwater Downs will provide an insightful, close-up, unfiltered portal into a sub-culture of American sport and the human spirit.

Long-time track announcer at Sweetwater Downs in Rock Springs, A.P. Harreld, who is an executive producer of the series, says the story will feature the racetrack where a kaleidoscope of lives converge --and the outcomes are never certain.

"These are very real people whose lives coincide for two months at a horse track in the heart of the American West," said Herreld. "Some young, some old. Some successful, some less-so. All from vastly different backgrounds chasing big dreams or unlikely comebacks, set against the sublime and imposing Wyoming backdrop. And so much of the outcome is determined by the horse they ride."

"Racing at the Rock" will take viewers on an insider tour of minor league horse racing and the lives of the people involved. Viewers will get to know a handful of colorful characters whose lives revolve around the racing, from the jockeys to the owners to the people who make a living around a racetrack.

The landscape and physical setting of Rock Springs, Sweetwater County and southern Wyoming will play a large visual role in this series.

"Wyoming is the American West," said Eugene Joyce, general manager of Sweetwater Downs. "Windswept prairies, jagged mountains, trout-filled rivers. Cowboys, big rigs, big hats and big skies. Rock Springs might fly under the radar from a tourism perspective but it's as American and as western as it gets," Joyce continued. "I am looking forward to horse racing season at Sweetwater Downs come alive on screen – and reveal all that personality, grit, hope and pride in an honest, unvarnished and competitive capsule."

Veteran documentary film makers Michael and David Hansen of Modoc Stories intend for this series to be a true documentary. An unscripted series, it will be thoughtful and respectful while also being unafraid to reveal the thick skin, harsh realities and touching human moments inherent in the rough-and-tumble life of horse racing. A premiere date for the docuseries will be forthcoming.

"Most of our lives are slow, long train rides, but for these jockeys and owners their lives can turn precipitously, for good or bad, on a sprint around a dirt track," said Harreld. "We intend to establish that tension - the race tension and the overall tension of the short season - throughout the series. The track and the sport as accelerators of the live-fast-ride-hard approach to life."

For those who want to experience the action in person, the 12th season of live horse racing at Sweetwater Downs extends through Sunday, October 2. Gates open at noon on Saturdays and Sundays with post times set for 1 p.m. Races will also be held on Friday, September 9, and Friday, September 16. Post times for both Fridays are at 4 p.m.

Sweetwater Downs is located at 3320 Yellowstone Road in Rock Springs. Tickets cost $5 per person. For more information on live racing at Sweetwater Downs, visit: wyominghorseracingdata.com.
* * * * * * * * * * * * * * * * * * *
WYOMING HORSE RACING
"Racing at the Rock" builds on Eugene Joyce's strong family legacy of horse racing in Wyoming. Joyce's family owned the horse track in Evanston from 1989-1998. He is also credited as a driving force behind the 2013 legislation allowing historic horse race wagering. In December of 2021, Joyce sold Wyoming Horse Racing to Pacesetter Racing & Gaming, owned by industry stalwarts Nick Hughes, Pete Liguori and John Sheldon. Joyce remains involved in Wyoming Horse Racing operations as general manager of Sweetwater Downs. Together, they bring a responsible approach, fresh focus, a dedication to horse racing and a previously unheard-of level of investment to the hospitality and agri-business sectors in Wyoming.

MODOC STORIES PRODUCTION COMPANY
Based in Hood River, OR, Modoc Stories is a full-service production company led by David and Michael Hanson with clients across the U.S., including Corning, REI, the Bill & Melinda Gates Foundation, The New Yorker, the Washington Post, Keen, Why Hunger, Patagonia and others. In 2013, Modoc produced, shot and edited the award-winning film, "Who Owns Water," which documents the water wars in the American South. Modoc Stories has produced numerous photo and video campaigns for Oregon tourism bureaus. For over a decade, Modoc has worked with leading companies in the outdoor space telling honest stories of real-life experiences.

Atlanta native A.P. Harreld is an executive producer of the docuseries. Herreld came to Wyoming in 2014 to broadcast high school sports in Evanston, and a year later began his career as a track announcer in the Equality State. Entering his seventh season at Sweetwater Downs, A.P. long has wished to capture the sights, sounds, and energy of the unique racetrack and culture born anew each late summer at the edges of the Red Desert.

MICHAEL HANSON DIRECTOR OF PHOTOGRAPHY / CREATIVE DIRECTOR
Michael Hanson is a photographer/ DP based in Hood River, OR. After a career playing in the minor leagues for the Atlanta Braves, Michael began his career in documentary and editorial photography. He has won numerous awards including the prestigious PDN30 American Photo: Images of the Year and World's Top Travel Photographer. His 2013 series, "Republic of Baseball" was featured in the New York Times and led to awards Pictures of the Year International and Communication Arts. Michael is a frequent contributor to The New York Times and Outside Magazine. He works as a National Geographic Expert on National Geographic Expeditions throughout Patagonia and the Columbia River. His fine art images are in the permanent archive of the Sir Elton John Collection.

DAVID HANSON CREATIVE DIRECTOR / PRODUCER
David Hanson is a writer, photographer, director and field producer with projects ranging from print journalism to documentary film. His 2017 podcast story "Calling Home" received a Lowell Thomas Award for Best Travel Broadcast. His feature articles have appeared in Outside, Preservation, Canoe & Kayak, Mountain, Sunset and Southern Living. He wrote about the people behind the urban farming movement in his book, "Breaking Through Concrete" (2011. Univ of CA Press) which he reported while traveling cross-country in a repurposed school bus.