RACING THIS WEEK
FEATURES
SERVICES
Champion trainer Chris O'Dell discusses the ideology used at yearling sales, as well as the mindset and direction taken when making selection on some of the higher-priced sales yearlings.

© Scott Martinez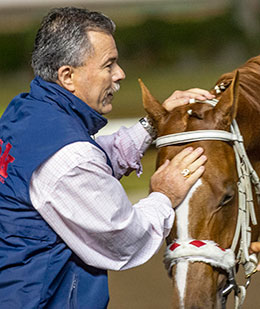 QH Racing Talk Podcast: Episode 27 StallioneSearch.com University: Volume 2 (AUDIO)
DALLAS, TX—SEPTEMBER 20, 2022— StallioneSearch releases episode 27 of the QH Racing Talk Podcast today, that features the second installment of the 'new' educational series on QH Racing Talk entitled 'StallioneSearch.com University'.
In this second-installment of 'StallioneSearch.com University' on the QH Racing Talk podcast, 2019 AQHA Racing Champion trainer Chris O'Dell discusses the ideology used at yearling sales, as well as the mindset and direction taken when making selection on some of the higher-priced sales yearlings in the industry.
Joining O'Dell on this installment is bloodstock agent Javier Alvarez, who picks a multitude of yearlings for various clients at the industry's major yearling sales throughout the year.
Although Alvarez does work with some clients who tend to focus on some of the high-end priced yearlings, he's mainly focused on the mid-range yearling market in order to a seek out a 'diamond in the rough' without paying for the yearling at a premium.
CLICK HERE and then click the "green arrow button" at mid-page to listen to episode 27 of Quarter Horse Racing Talk.
Throughout the remainder of 2022, episodes are released every month on StallioneSearch.com. Also available on StallioneSearch.com's Podcast Network are any previous shows you may have missed. QH Racing Talk podcasts also can be found on StallioneSearch's Facebook page, Twitter, iTunes, and Spotify.
* * * * * * * * * * * * * * * * * *
The second-crop sire Power Jam, the stallions of Cavenaugh Quarter Horses, the stallions of Robicheaux Ranch, Inc., new sire for 2022 Eagles Fly Higher, Justin Powell Racing Stables and Lip Chip, LLC are "QH Racing Talk" podcast sponsors for 2022.