RACING THIS WEEK
FEATURES
SERVICES
The 2023 LQHBA Awards Banquet and General Membership Meeting will be held Saturday, April 22, 2023 in Opelousas.

© LQHBA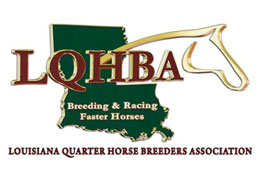 LQHBA Annual Meeting, Awards Banquet and Board of Directors Elections Set Saturday, April 22
ALEXANDRIA, LA–JANUARY 24, 2023–The Annual Awards Banquet and General Membership Meeting of the Louisiana Quarter Horse Breeders' Association (LQHBA) is scheduled for Saturday, April 22, 2023, in the Event Center at Evangeline Downs Racetrack & Casino.
The event will get underway at 5:00 p.m. (CT) at 2235 Creswell Lane Ext, Opelousas, Louisiana, 70570.
Annual election for Board of Directors will also be on this date. As with prior year there will be NO mail in ballots! Voting is in person only during the Annual Awards Banquet and General Membership Meeting from 2:00 p.m. to 6:00 PM.
Year-end 2022 LOUISIANA BRED Champions will receive awards during the banquet as well as the annual HALL OF FAME presentations will be made in honor of one person and horse entering the LQHBA HALL OF FAME.
For additional information visit the association's website at lqhba.com or call (318) 487-9506.